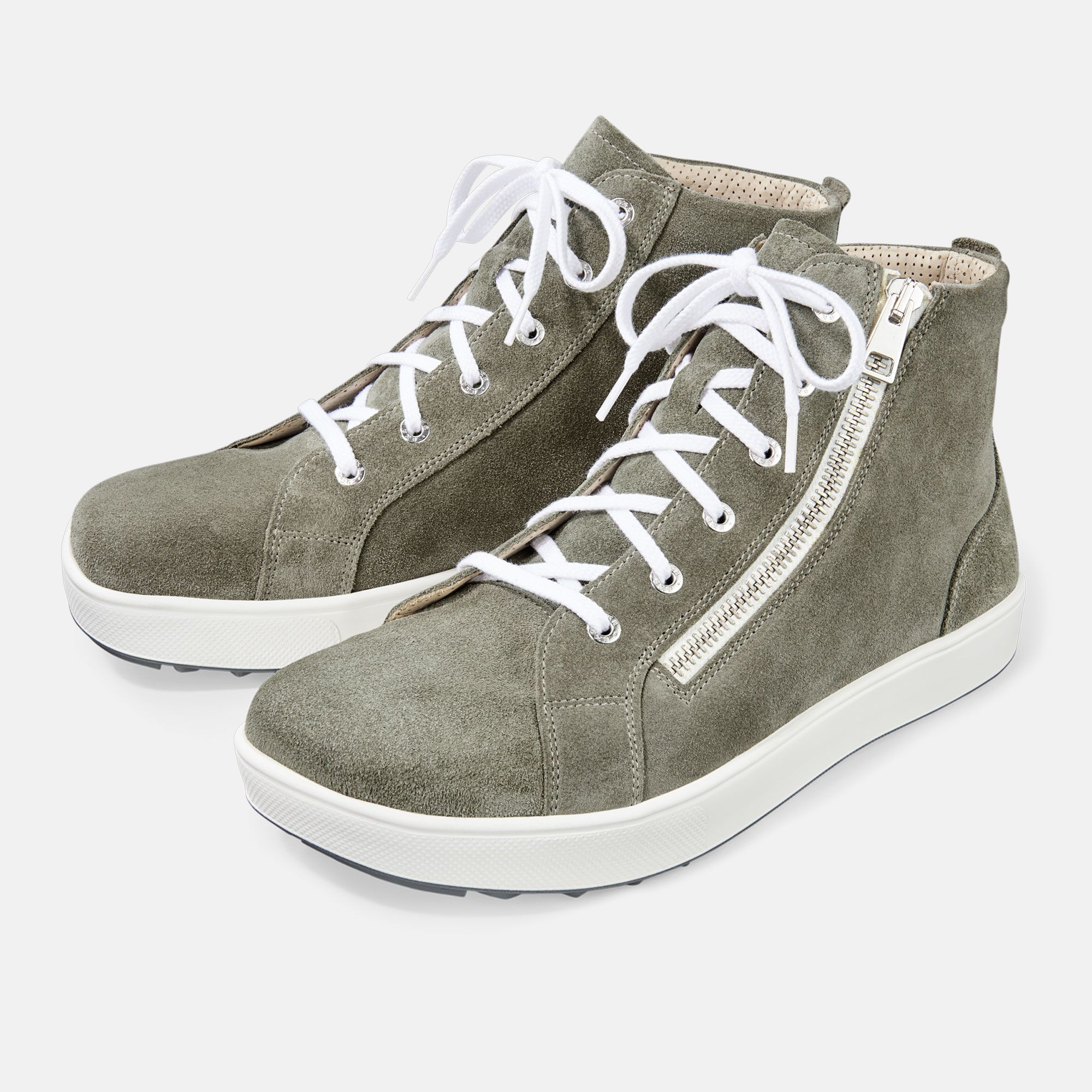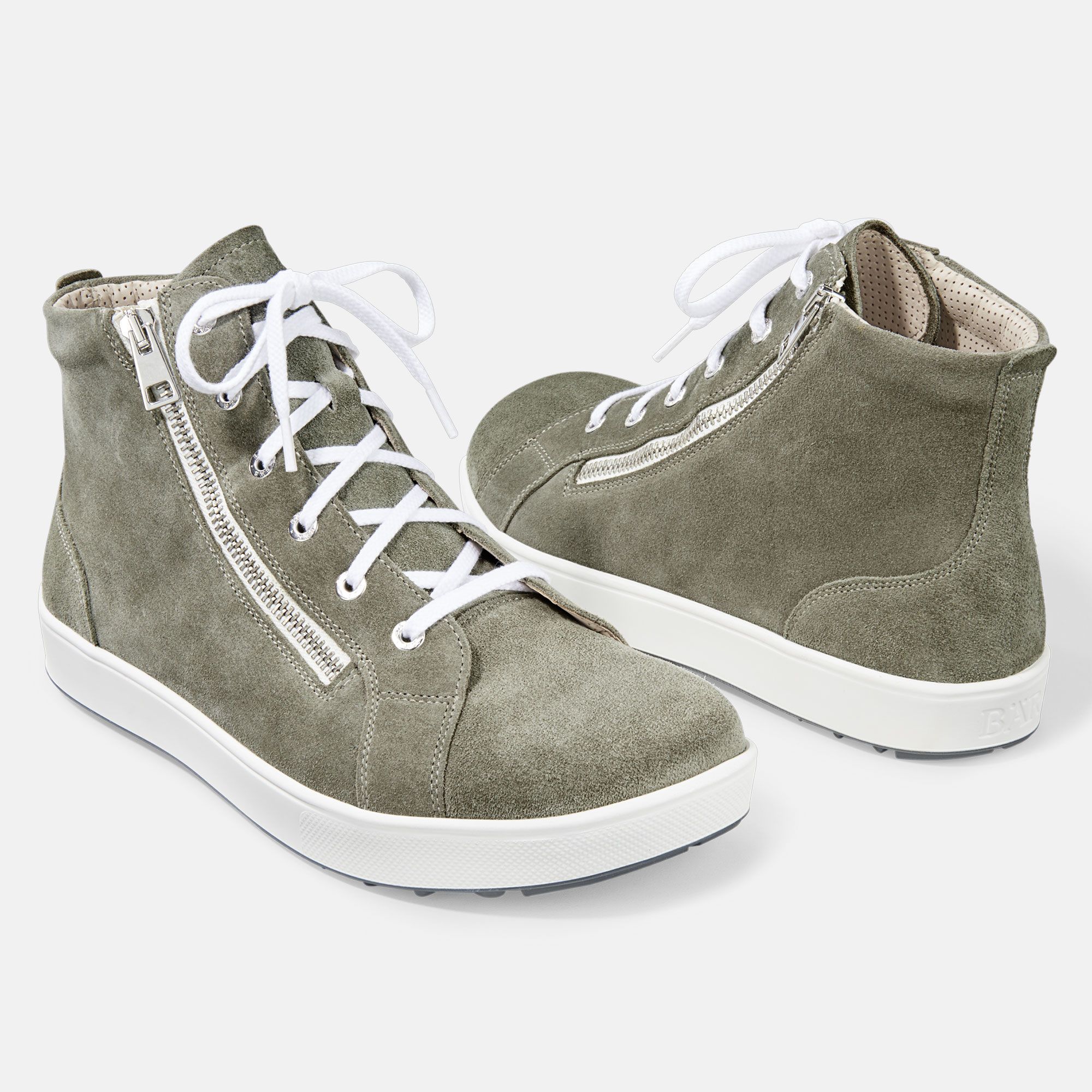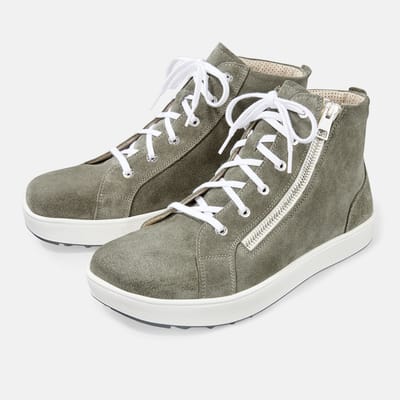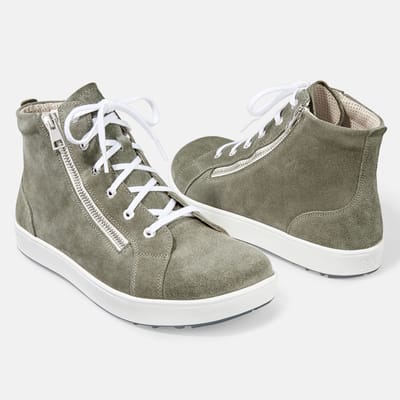 Anja
Item number:
2133-164-05,5
High top sneakers in boot design are an ­absolute fashion highlight! Anja can easily be combined with different styles, such as sporty outfits or casual jeans. A great allrounder with impressive features: BÄR-typical comfort, ideal cushioning and an ultra-secure fit, thanks to 6 mm cork-latex footbed.
Trendy high-top sneaker featuring a side zip
Details
Lining
Calfskin/heel textile
Removable footbed
Removable supportive, leather-covered, 6 mm cork-latex footbed
Upper material
Bucksin leather
Outer material
Calfskin suede leather
Soletype
Abrasion-resistant Move sole made of lightweight PU with rubber profile
---
Sieht schön am Fuß aus, praktischer Reißverschluss.
Der Reißverschluss ist eine Katastrophe
Der Schuh selbst ist recht bequem. Dafür die zwei Sterne. Obwohl ich beim Anziehen jedes Mal alles mühevoll in die richtige Position ziehen muss. Und das System Reißverschluss ist eine einzige Katastrophe. Er lässt sich nicht schließen, hängt und harkt ständig, sodass auch ich jetzt entnervt dazu übergehen musste, den Schuh nur noch mit den Schnürsenkeln zu schließen. Eigentlich war der Reißverschluss für mich ein Kaufkriterium, schneller Einstieg und fertig. Bei so einem, wie ich finde extrem hochpreisigen Schuh, erwarte ich einfach ein entsprechend durchdachtes Konzept, aber so, ein absolutes No-go. Von mir keine Kaufempfehlung. Für ein zweites Paar Schuhe von Bär bin ich im Moment leider zu enttäuscht. Habe einfach bei dem Preis eine bessere Qualität erwartet. Schade.
Sehr schöner und bequemer Schuh
Im letzten Winter war das einer meiner Lieblingsschuhe.
Passform prima, Reißverschlussverhalten sehr verbesserungswürdig
Mit Schuh "Anja" bin ich von der Passform her sehr zufrieden und er sieht auch schick aus. Probleme haben mir die Reißverschlüsse bereitet. Zunächst an einem der Schuhe, kurz darauf auch beim andereren blieb der Reißverschluss in dem schmalen Schutzleder längs des Reißverschlusses innen so fest hängen, dass der Gang zum Schuster unumgänglich wurde. Beide Male wurde ich 8,50 € dafür los. Das finde ich bei einem so hochwertigen und damit auch hochpreisigen Schuh sehr ärgerlich. Nun benutze ich nur noch die Schnürung und muss den Reißverschluss nur als Zierde ansehen.
Love these. The color, fit, style. So cute! And such good quality.