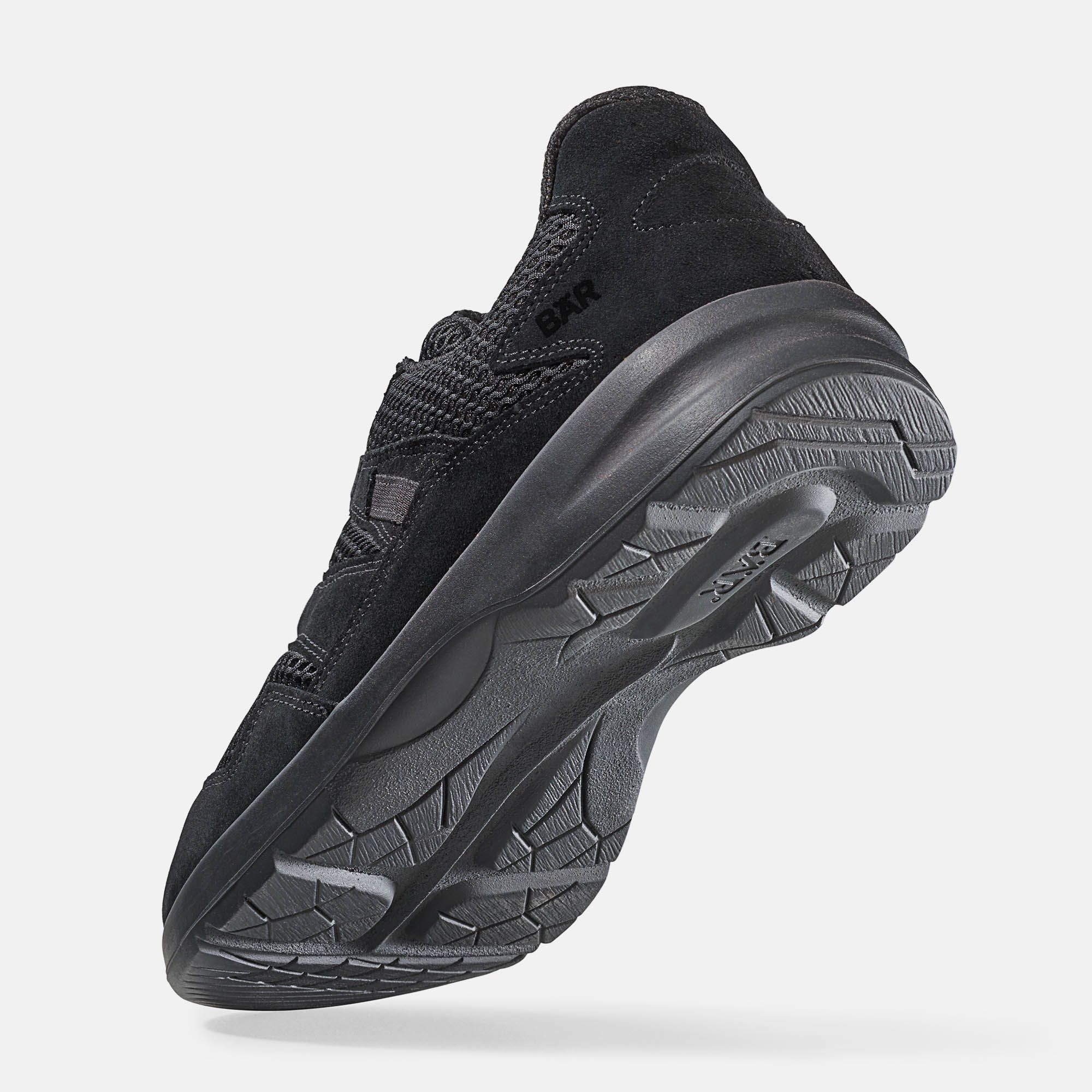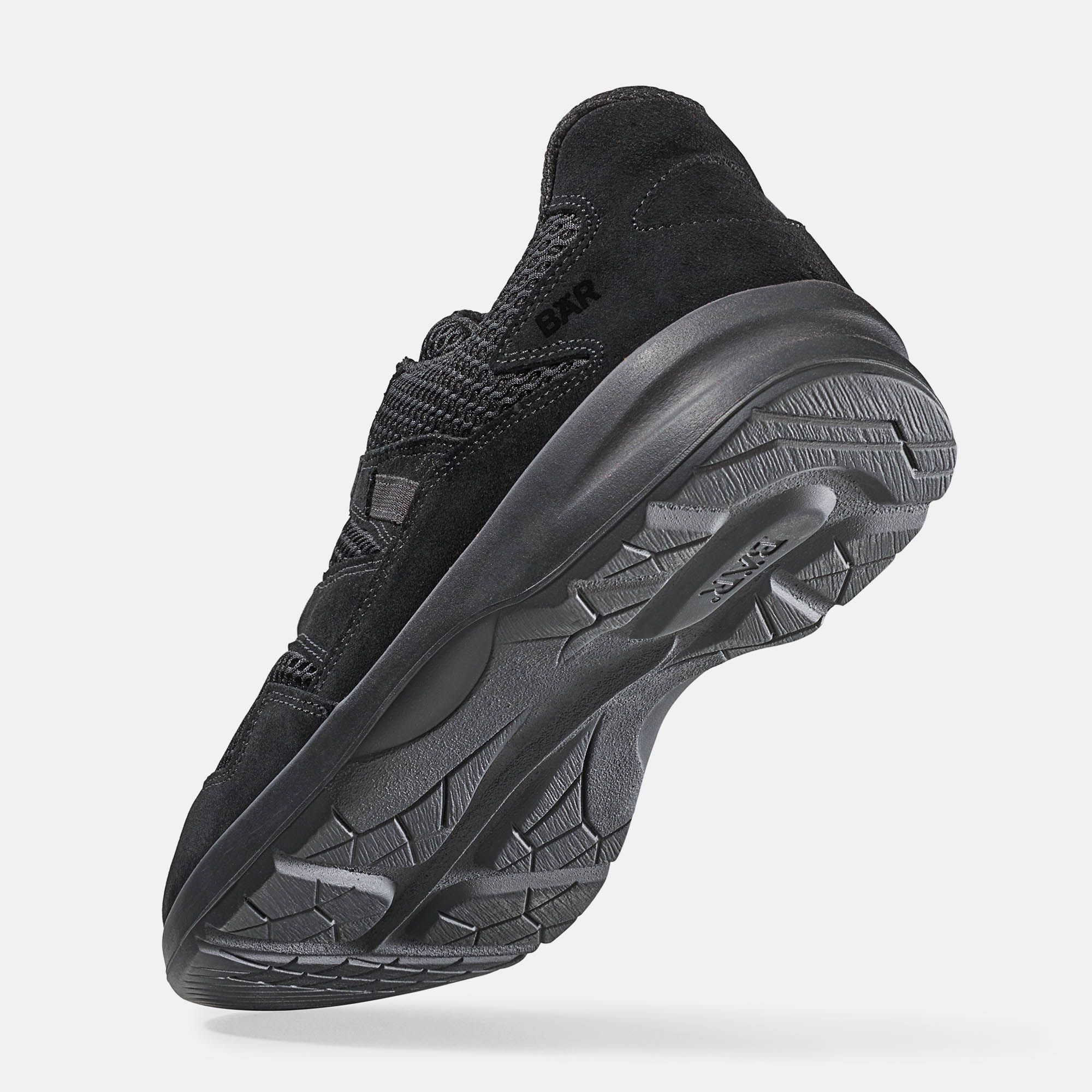 Easyrun
Item number:
1091-100-12,5
The name says it all: EASYRUN makes jogging a cinch for men and women thanks to its permanently elastic BÄR high-resilience foam footbed with joint support and its two-component sole. An outstanding level of cushioning provides exceptional feel-good comfort.
Jogging shoe suitable for everyday wear
Details
Fit
Normal to wide foot shape
Removable footbed
Removable, textile-covered 6 mm Resilience foam footbed with joint support
Upper material
Materialmix
Outer material
Cowhide suede leather Mesh
Soletype
Soft tread due to top cushioned D-Light sole, made of lightweight PU and abrasion-resistant TPU profile, heel drop 10 mm
---
nach 3 Monaten ist beim rechten Schuh die Sohle gebrochen. Die erwartete Baer-Qualität ist das nicht.
Typisch Bär - super bequem - nur leider ist das Material relativ rasch hinüber und es zeigt sich ein Loch im Gewebe
... ich hätte mir eine stärkere Dämpfung gewünscht. Im Vergleich mit Joe Nimbles Addict ist die Sohle dieses Schuhs weniger gut gedämpft. Die Zehenbreite ist aber super, Material und Farbe (grau.gelb) sehr gekungen und färben bei mir nicht. Die Schnürung habe ich durch andere Schnürbänder besser an meinen Fuß angepasst. Jetzt ist er perfekt.
Der Schuh ist sehr bequem und weich gepolsterter! Nichts drückt!
Von Kundenservice falsch informiert - Schuhe färben nun extrem!
In der Mail vom 8.3. hat mir der Kundenservice versichert dass die Schuhe NICHT ABFÄRBEN. Dies ist eine Unwahrheit! Tatsächlich färben die Schuhe (am Anfang weniger) aber nun extrem ab und die Schuhe haben nun Platzverbot bekommen. Ich hatte mich vorab erkundigt, wurde falsch informiert und nun wird das Abfärben als natürlicher Abrieb dargestellt - bin sehr enttäuscht, in diesen Schuhen hatte ich endlich keine Haluxschmerzen mehr, und darf sie nun nicht mehr verwenden. Am 04.03.2022 um 16:46 schrieb BÄR Kundenbetreuung: Sehr geehrter Herr Feiner, generell können Sie sowohl unsere "High Performance" als auch die "Easyrun" verwenden. Die Vorteile kurz im Überblick: High Performance - extrem abrollfreudig, aber schwerer als der Easyrun Easyrun - sehr leicht, kaum zu spüren, dennoch guter Halt. Jedoch haben unsere Schuhe alle eine schwarze Sohle, die zwar nicht abfärbt, dennoch oftmals in Hallen nicht erlaubt sind. Vielleicht erkundigen Sie sich in dieser Angelegenheit nochmals vorher? Die Frachtkosten nach Österreich betragen 6.-€, die Rücksendung geht auf unsere Kosten wenn die Schuhe nicht passen oder gefallen. Wenn Sie gar nichts aus der Bestellung behalten, fallen auch keine Portokosten für Sie an. Freundliche Grüße Ihr BÄR Kundenservice Silvia Jürschik Sehr geehrter Herr Feiner, tut mir leid, dass Sie mit den Easy Run nicht zufrieden sind. Die von Ihnen geschilderten "Mängel" ist kein Abfärben, sondern ein natürlicher Abrieb der Sohlen und somit auch kein Reklamationsgrund. Dass dies im Laufe der Benutzung stärker wird ist nachvollziehbar. Eben durch diesen Abrieb sind schwarze Sohlen in Hallen nicht erlaubt, darauf hatte ich ja ebenfalls hingewiesen. Speziell der Easy Run ist mit einer extrem widerstandsfähigen Sohle ausgestattet - jedoch lässt sich der Abrieb auch hier nicht gänzlich vermeiden. Wir bitten um Verständnis. Freundliche Grüße Ihr BÄR Kundenservice Silvia Jürschik
Mein erster Bär-Schuh seit Jahren
...und wie erwartet gibt er mit ein wunderbares Laufgefühl. Dieser erfreulich leichte Sportschuh wird wegen meiner Fußprobleme als Wanderschuh genutzt. Er wirkt luftig und ist hoffentlich nicht so warm wie meine anderen Sportschuhe. Optik sehr nett, Farbe auch. Bin sehr zufrieden.