CAREFREE WALKING WITH BÄR COMFORT SHOES
HALLUX VALGUS SHOES
Avoiding pain is the main focus here, because nothing is more stressful than permanent discomfort when running or walking. In addition, the skin on the feet is often irritated, which leads to pressure points in conventional shoes, which have equally unpleasant consequences. In addition to pain prevention, the aesthetics, function and resistance of comfort shoes should also be considered so that you can find just the right hallux valgus shoe for you. Increase your well-being in everyday life with comfortable shoes from BÄR, which are specially designed for wearing with toe deformities!
How BÄR shoes support your sensitive feet
Your feet are optimally supported by BÄR shoes and protected from injuries, blisters and premature fatigue. Toe freedom, zero heel and flexibility create the incomparable BÄR feeling: relaxed barefoot comfort from the very first step. Thanks to the toe freedom, the shoe shape consistently follows your natural foot shape and thus your feet have the space they need and are not trapped. At the same time, the zero heel supports your natural barefoot walking feeling.zero heel means that the ball of the foot and the heel are at the same level. Only then does the body stand relaxed, because that is exactly what it is designed to do. The intervertebral discs are in the correct position and not squeezed or bent. Most other shoes, however, have a shape in which the heel is higher than the ball of the foot. Unfortunately, especially in women, muscle and tendon shortening and joint problems are often the result later. And the high load on the ball of the foot can lead to hallux valgus. This is because the ball of the foot is not designed to bear so much weight. That's what we have our heels for."
The special features of hallux valgus shoes
Finding the right shoes for hallux valgus is not as difficult nowadays as it was a few years ago. This is mainly due to the fact that the bunion can now be called a widespread disease and thus many people want to be equipped with suitable comfort shoes. Nevertheless, you should definitely pay attention to high-quality products in order not to aggravate the deformity or relieve pain completely. Due to the typical deformation of the toe bone, special requirements are necessary that specifically address the causes and consequences of the deformity.
The most common deformity of the foot - but how does hallux valgus occur in the first place?
Basically, hallux valgus is a deformation of the big toe in which the metatarsal bone of this toe pushes further and further out. This causes a widening of the front part of the foot, which has painful consequences, especially in tight shoes. Unfortunately, one of the most common causes is wearing women's shoes with high heels. Shoe models that are pointed towards the front or are too small also promote the development. By shifting the weight to the front part of the foot, a splay foot develops. This lowers the front arch of the foot and results in the toes lying flat on the ground and splayed outward. Due to this unnatural pull on the tendon, the big toe rotates out of the base joint and hallux valgus develops. Since this also prevents the other toes from remaining in their usual position, they often also suffer malpositions.
Our shoes for hallux valgus
If you notice the first signs of this typical change in your feet or have received the corresponding diagnosis from your doctor, it's time to think about alternative footwear and buy hallux valgus shoes! Nowadays, these are no longer comparable to unattractive, clunky predecessor models of the past: instead, we offer you a variety of elegant and fashionable comfortable shoes that give your feet back significantly more freedom. Since women in particular are affected by bunions, you will find the following popular categories and comfort shoe models in our online store of hallux valgus shoes:
For Women
Sneaker / Boots / Hiking-/Sportshoes / Sandals / Business-Shoes / Mokassins
Of course, a comprehensive product range of men's shoes is also available. Because both in the case of other diseases such as arthrosis - for which hallux rigidus shoes are ideal - as well as in the case of previous freedom from complaints, the selected shoes should optimally support your foot in everyday life.
Für Men
Sneaker / Boots / Hiking-/Sportshoes / Sandals / Business-Shoes / Mokassins
What are the right shoes for sensitive and demanding feet?
Finding the perfect pair of shoes is usually a challenge, even for people without bunions. Color, shape, material, the right outfit: shoes are so versatile and offer endless possibilities that sometimes you don't really know where to start. Due to the widening of the front of the foot caused by the disease, the choice for people with hallux valgus is usually limited when it comes to conventional shoes. That is why we offer a wide range of different comfort shoes that will not only meet your needs in terms of comfort, but also be in line with modern trends. Hallux valgus shoes are designed to provide optimal support for your foot and reduce pain or discomfort while walking and standing. But which features are recommended and what really matters when choosing your shoe?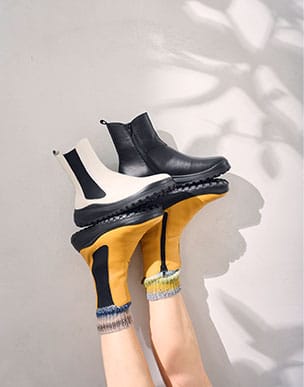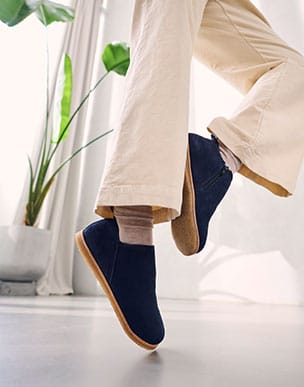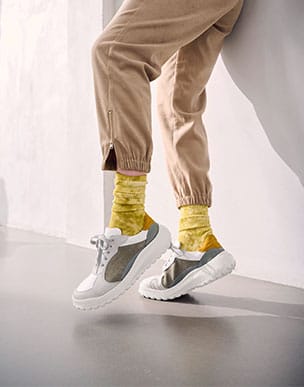 Generally speaking, shoes that take into account the special needs of your feet offer. Since these special requirements arise due to the altered position of the toes, Hallux valgus shoes are designed to pay particular attention to this area of the foot and are equipped to that end. Often a special padding is used in comfort shoes, which gently hugs the ball of your toe and adapts to its shape. This is of incomparable advantage, especially for very sensitive feet and pressure points at the joint area. Test comfort shoes from BÄR in comparison with your normal shoes! As soon as you wear them for the first time, as soon as the soft material adapts perfectly to your foot, you will feel the difference. Only by wearing hallux valgus shoes regularly will you really be making a contribution to keeping your feet healthy. Even if you only notice slight signs of deformity, the right shoe can make a big difference. Take the strain off your toes and joints with a comfortable shoe and avoid discomfort! This allows the stressed skin to regenerate and pressure points in the affected areas to heal faster.
It all depends on the material
Soft and elastic materials are the be-all and end-all for hallux valgus shoes. In order to reduce pressure on the toes and ball of the foot, you need flexible materials and stretch inserts that really adapt to the shape of your foot. For many of our shoes, we therefore use soft and supple nappa or suede leather, which is specially processed to reduce the problems of hallux valgus. When selecting all our materials, we pay special attention to naturalness. Especially leather for hallux valgus shoes should be tanned in such a way that the fibers do not become compressed or hardened. Elasticity also plays a crucial role, as it is what makes for unique comfort. If you are looking for lightweight shoes, we have, for example, comfortable moccasins made of mouflon or elk leather, which are perfect for traveling. Contrast this with sturdy hiking and sports shoes made of calf suede and functional textile, which are hard-wearing and water-repellent without losing the promised toe clearance. No matter which model you choose: All materials of BÄR shoes have the advantage of reducing the typical symptoms of hallux valgus.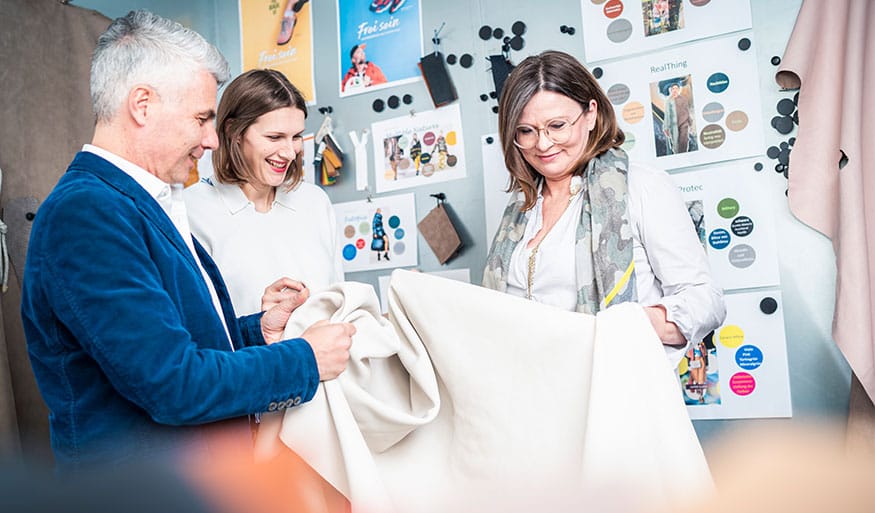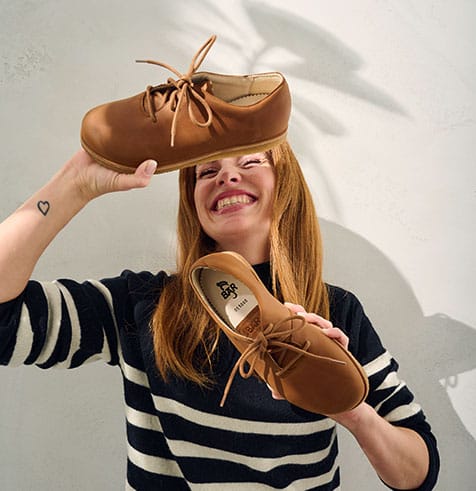 Padded footbed & extra shoe width
As you surely know from your own experience, sufficient space in the front area of the shoe is especially important for hallux valgus. To give your toes the freedom of movement you need for pain-free walking, hallux valgus shoes are cut extra wide at the front. This not only allows you to walk in a more relaxed manner, but also to wear thick socks on cold days without the shoe pinching. By the way, unrestricted toe room is a special feature of all BÄR comfort shoes to allow your toes to function naturally. In addition to width, the footbed is particularly crucial for hallux valgus shoes. Softly padded insoles provide a comfortable walking sensation that will also have an impact on your well-being. In our online store you will find practical shoe accessories, which mainly include footbeds that are suitable for different applications.
For example, the extremely cushioning Poron® insoles, which ideally cushion your foot and thus enable relaxed walking, especially when toes are deformed. Anatomical footbeds made of leather or cork-latex mixture have also proven to be a natural product in our shoes. All our shoes for hallux valgus are equipped with insoles designed for this purpose, which are perfectly matched to the respective shoe as well as the corresponding function!
Stay active with the right hallux valgus shoes
If you have pain in your feet or your shoes pinch with every step, the fun of active movement is usually limited. Unfortunately, avoiding sports activities for hallux valgus - similar to many other medical conditions - is counterproductive. Because active exercise can have extremely positive effects! Targeted exercise strengthens the foot muscles and can prevent further development of the toe deformity. Of course, you need the right shoes for this, which really help with hallux valgus and in which you enjoy walking. Our walking and sports shoes are just right for this! To help you regain the fun of walking or running, we have developed hallux valgus comfort shoes that are not only very comfortable but also perfectly cushioned. The removable footbeds can be taken out of the shoe after active movement, so you can simply put it in the fresh air to air it out. Depending on your requirements, you can buy hallux valgus shoes online from us that are more suitable for the city or easy routes, or designed for more demanding terrain. The latter have special soles with which you have particularly good grip and which optimally support your arch of the foot, if the ground becomes somewhat uneven. Sporty comfort shoes are also equipped with cushioning that will absorb your weight with every step and thanks to which you will walk like on clouds! Despite all the quality and health benefits, BÄR shoes also have a great look: our hallux valgus shoes are designed according to modern trends, are available in many colors and go with a wide variety of outfits. Browse through our range and discover the latest models of hallux valgus shoes that will bring more activity back into your life and with which you will enjoy being out in the fresh air!
Fashionable selection of hallux valgus shoes at BÄR
If you're worried that you'll have to do without fancy or modern footwear because of the widening of your forefoot, we can allay that fear. In our BÄR online store, you will not only find hallux valgus shoes that are wonderfully comfortable, we also have plenty of comfort shoes ready for a wide variety of occasions! Whether it's for a Sunday stroll, a shopping trip in the city, the Christmas party or for everyday wear, you can choose the right pair for every occasion that combines looks and comfort.
Hallux valgus ladies shoes
Ladies will find numerous hallux valgus shoes that go well with a dress, jeans or even a business look. For everyday work, classic lace-up shoes or ballerinas are suitable for this purpose, which can be combined in many ways. However, ballerinas for women can also be worn for festive occasions, as you deliberately put your legs in the spotlight and are nice and airy especially on hot summer days. In contrast, fashionable boots or ankle boots will keep you nice and warm even in freezing temperatures. Made of precious lambskin or water-repellent nappa leather, these models are not only as comfortable as cozy slippers, but also the ideal companion in winter. By the way, a diagnosis of hallux valgus does not mean that you can no longer wear heeled shoes. Of course, you should be careful not to put your feet in a wrong position again and worsen the hallux valgus. In order to avoid that, our assortment also includes elegant pumps that come with only a small heel, but this allows for soft tread and high comfort. Due to the thoughtful design and workmanship of our hallux valgus shoes for women, the wider cut in the front of the foot is hardly noticeable, although you have significantly more freedom of movement for your toes.
Buy hallux valgus shoes online
You want to enjoy the benefits of hallux valgus shoes and try our comfort shoes? Then order them conveniently online. If you still have questions about our shoe models, please feel free to contact us by phone or email. Our advice will help you find exactly the right pair of hallux valgus shoes and explain the different fits! If you would like to read more about our company, important information and great promotions, the BÄR blog is just the right medium for you.