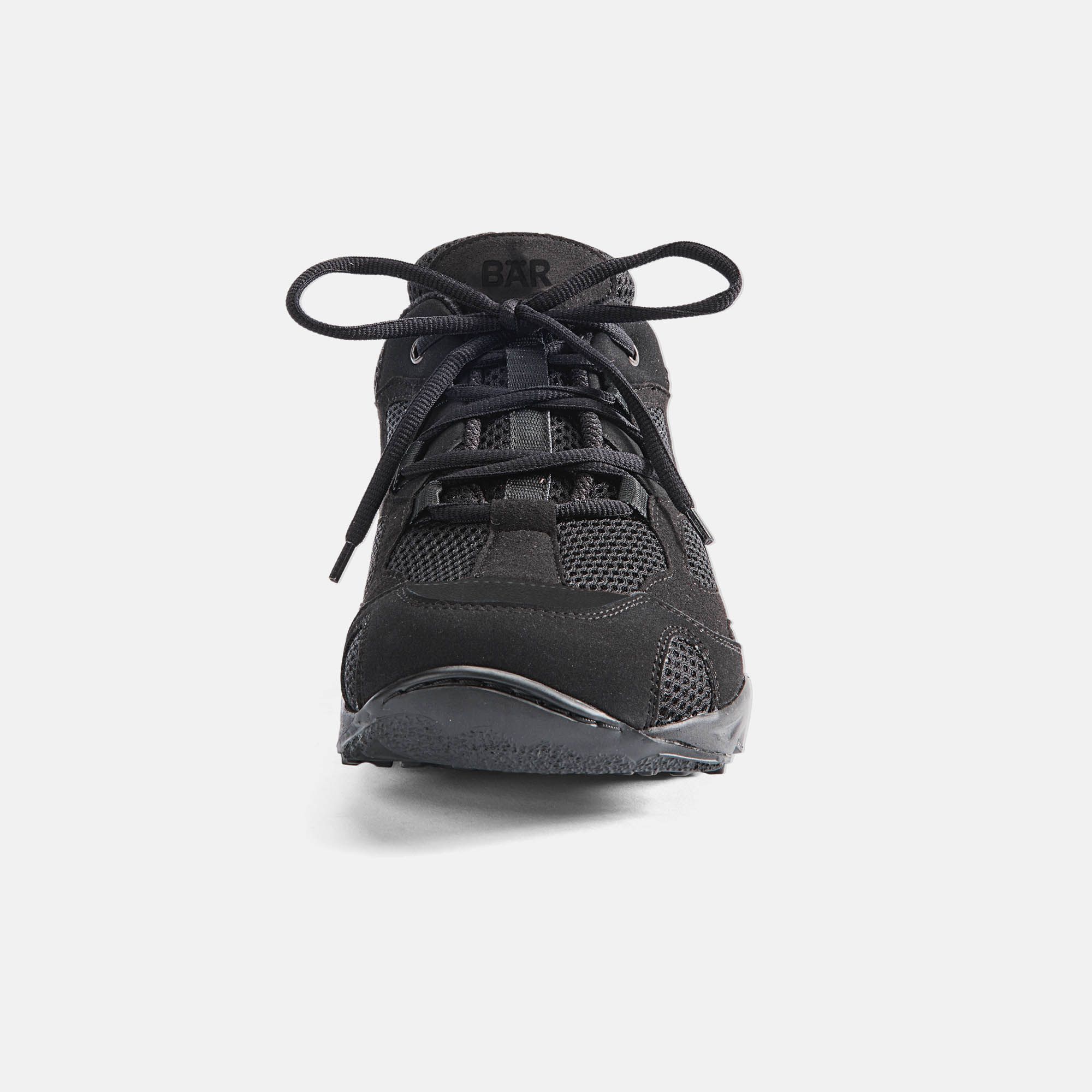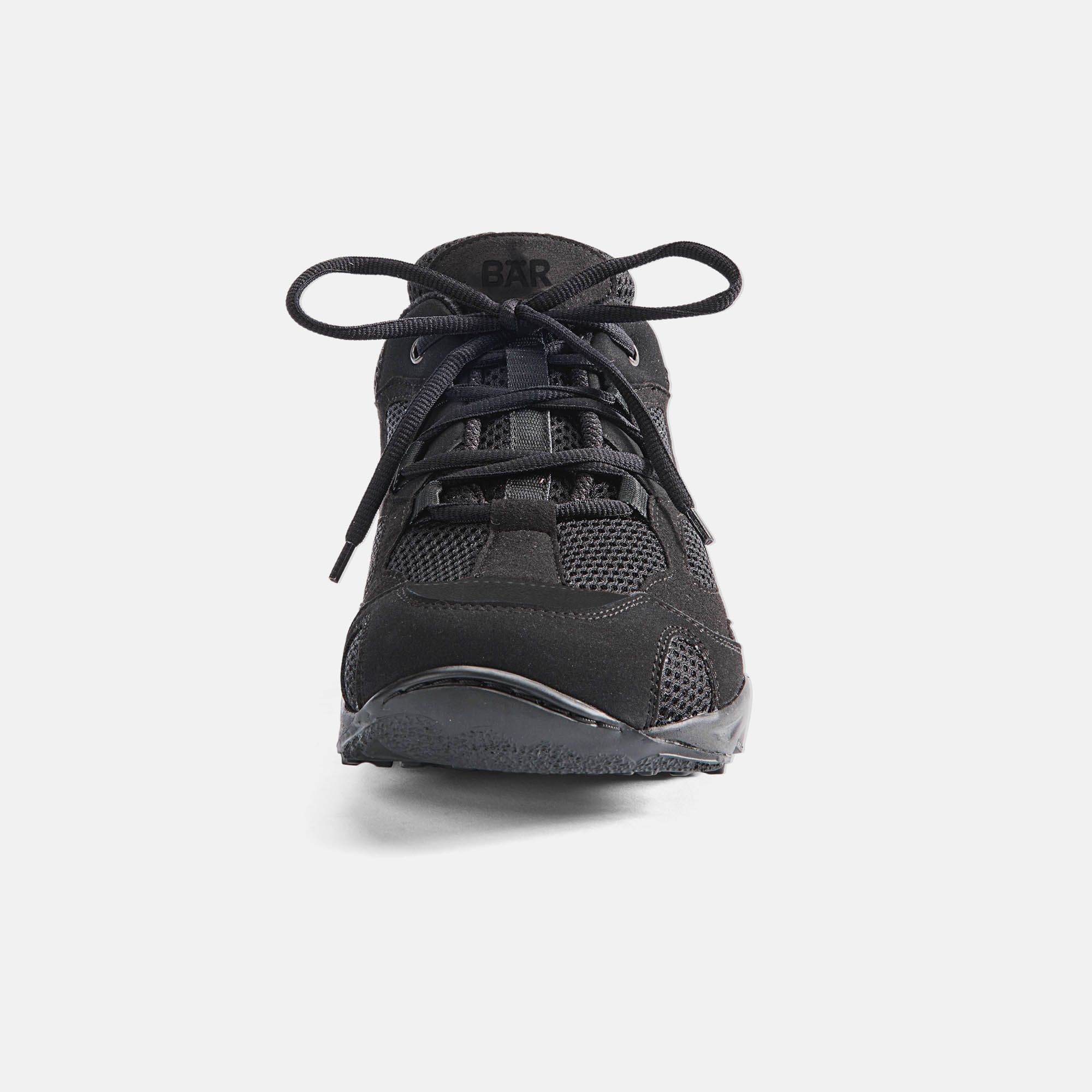 High Performance 2.5
Item number:
1469-100-11,0
"High Performance 2.5", a shoe with a fantastic grip on all surfaces, has been tested on a 217 km trek through Death Valley. It supports the arch, serves as an exemplary stabiliser and allows your feet to roll in a way comparable to the ideal barefoot walking process. In other words: a high performance in function and style.


Outstanding sports and trail shoe
Weight: 410 gram in size 6,5
You can find detailed advice on buying your hiking boots and all the important facts here: Hiking shoe tips from BÄR
Details
Fit
Normal to wide foot shape
Removable footbed
Removable, textile-covered 6 mm Resilience foam footbed with joint support
Upper material
Materialmix
Outer material
Calfskin suede leather Mesh
Weight ca. per shoe
410 gr
Soletype
Highly resilient Endurance sole made of a light PU/rubber combination for excellent traction and joint-friendly rolling, heel drop 10 mm
---
Obwohl ich schon viele Schuhe von Bär trage muss ich sagen,daß dieser Schuh einzigartig ist.Hier stimmt alles.Dieser Schuh ist ei e Wohltat für die Füße. Anziehen und loslaufen. Egal auf welchem Untergrund egal wieviel Kilometer die Füße bleiben entspannt.Nach einer Hallux Operation im Januar habe ich h immer noch Schmerzen beim Laufen dieser Schuh erleichtert mir das Laufen enorm.Der Schuh ist jeden Cent wert.ich werde ihn mir noch in einer anderen Farbe kaufen.
Aufgrund diverser Fussprobleme mein erstes paar Bärschuhe. Sämtliche Komfortschuhe anderer Hersteller sind im Vorfussbereich für mich zu eng. Aufgrund Arztempfehlung diesen Schuh gekauft und hier drückt nichts! Perfekt! Wenn jetzt noch die Einlagen vom Schuhtechniker passen kann ich vielleicht wieder mehr als 500 m gehen... Ich hab sie in orange gekauft und sind da sogar ein Hingucker! Jetzt im Frühjahr benötige ich allerdings eine Alternative da sie zu leichten Sommerhosen etwas zu wuchtig aussehen...
Ich habe die Schuhe ausschließlich zum joggen verwendet und durchs tracking per app kann ich ab Kaufdatum genau die die zurückgelegten km mit diesen Schuhen nachvollziehen. Ich habe die HP2.5 2017 gekauft und damit 5230km zurückgelegt und das auf einer Sandstrecke mit auch teilweise steinigen Anteilen. Wahnsinn was die mitmachen! Der Vorgänger (Bär HP 2.0) hat es "nur" auf 2200 km geschafft, dann war die Dämpfung hin. Das macht kein Schuh von Nike oder Adidas mit. Hab sie mir kürzlich wieder bestellt, weil die alten HP2.5 nun ausgedient haben. Anziehen, loslaufen. Nie Blasen oder Verletzungen gehabt. Ab und an durchbricht man auch die Schallmauer :)
Zeigt nach 3 Monaten Schwächen
Ich werde diesen Schuh wieder kaufen, denn er ist im Moment der einzige mit dem ich schmerzfrei laufen kann. Leider ist er nach 3 Monaten ziemlich verschlissen. Obermaterial , Einlage und Sohle haben recht nachgegeben , so dass der ursprüngliche Halt nicht mehr gegeben ist. Teurer Spaß.
Super bequem, aber leider kein Qualitätsschuh
Habe diesen Schuh sehr gern für meine seltenen kurzen Wege ( ca. 6 km) in die Stadt angezogen und mich dabei meistens über natürlichen Waldboden bewegt. Leider hält der Schuh nicht, was er verspricht. Zuerst lösten sich nach kurzer Zeit die silberfarbenen Bestandteile des Obermaterials auf. Die Laufsohle nutzte sich unerwartet schnell ab. Zu schnell für einen Premium-Qualitätsschuh! Die graue Profilsohle löste sich dann an mehreren Stellen gleichzeitig ab. Leider lohnte es sich nicht sie wieder anzukleben, weil die weiße dicke Schicht der Sohle zu schnell porös und brüchig wurde. Besonders ärgert mich der hohe Preis für so eine miese Sohlen-Qualität. Denn als ich mich jetzt endlich schweren Herzens von diesem Schuh verabschiedete, fiel mir auf, dass die Innensohle sowie der innere Teil des Schuhs noch in einem neuwertigen Zustand waren. Keinerlei Abnutzungsspuren. Ich hatte die Schuhe nur gelegentlich an. Umso ärgerlicher... Echter Schrott für viel Geld! Da habe ich schon bessere Schuhe für den halben Preis getragen!
LEBENSGEFÄHRLICHES RUTSCHEN
Der von der Passform her gut sitzende High Performance ist unseligerweise mit einer Sohle ausgestattet, auf der man bei feuchtem Untergrund unweigerlich ins Schlittern gerät. Bei Nässe ist dieser eigentlich für den Herbst gedachte Schuh nicht verwendbar. Daher trotz anderer Vorzüge nur ein Stern.
Ich habe bereits 2 Paar dieser fantastischen Schuhe gekauft. Das Laufen ist wirklich herrlich. Meine Hobbitfüsse danken es mir mit unermüdlichem Einstazwillen. Leider hält diese Sohle kein Jahr. Ich wünsche mir hier eine verbesserte Sohle, dann wäre der Schuh unübertreffbar.
Wahnsinnig gut, leider auch (für mich) wahnsinnig hässlich
Die Schuhe sind vom Laufkomfort her unvergleichlich, ich habe und hatte bislang keinen Schuh, in dem ich mit meinen Problemfüßen so gut laufen kann. Seit meiner Kindheit habe ich Senk-, Spreiz-, Knick- und was weiß ich noch für Füße, entsprechend Probleme machen sie nun im Alter. Mit den Schuhen habe ich absolut keine Probleme. Ich habe noch die Einlegesohlen getauscht, da ich da schon perfekte für mich gefunden habe, mit den Schuhen in Kombination, ein echter Traum. Aber für meinen Geschmack sind sie so furchtbar hässlich, so hässliche Schuhe hatte ich noch nie, sorry. Ich weiß, Geschmäcker sind verschieden, aber allein die angebotenen Farben, dann der Riesengroße Reflektorfleck (ich würde gern Streifen sagen, aber es ist ein Fleck), der sich überhaupt nicht einfügen will, das alles verlangt mir schon sehr viel ab. Aber der Laufkomfort geht mir hier vor. Wünschen würde ich mir tatsächlich einen etwas hübscheren Schuh in Farben, die man sich auch gern anziehen möchte (schwarz und weiß sollten immer dabei sein), das Ganze ohne diesen irritierenden Reflektor, das wäre perfekt. Was ich nun im Winter mache, weiß ich noch nicht, denn bislang habe ich solche Schuhe noch nicht für die kalte Jahreszeit entdecken können.
Von meinen Bär Schuhen war der schwarze High Performance mein erstes Paar, das ich gekauft hatte. Bis heute ist er mein liebster Schuh. Trotz Problemfüßen läuft es sich darin wie auf Wolken. Lange Fußmärsche oder lange anstrengende Tage sind kein Problem mehr. Er bietet Halt und ist trotzdem unsagbar bequem. Für mich gibt es keinen besseren Schuh.
Joggen mit neuer Leichtigkeit
Super Jogging-Schuh. Besonders toll ist die Dämpfung, die ich bei jedem Schritt spüre - Joggen wie auf Wolken. Im Vegleich zu meinen alten Jogging-Schuhen einfach um Klassen besser, obwohl die alten Schuhe auch nicht grad preiswert waren.