Innovation meets relaxation
The new BERGKOMFORT hiking collection meets every demand for quality, function and comfort.
The soles with patent-pending FIRMOFLEX® technology are relaxed and sure-footed, whether you're on a long-distance trail or hiking for pleasure.
The Bergkomfort hiking boot 2.0 has won the ISPO Award 2023!
With this award, the leading international sports platform ISPO honours the outstanding products and services of the industry.
The award means that the award winner is not only in the spotlight at the "OutDoor by ISPO" trade fair, but can also benefit from the international reach throughout the year. The ISPO Award offers not only media and retailers, but above all consumers an orientation aid and a basis for purchase decisions in a multi-layered market.
The expert jury was convinced by the following features:
Comfortable footbed and wide toe box.
Sustainable features of the product
High-quality manufacturing
Great foot climate
Patent-pending BÄR FIRMOFLEX® sole technology
Vibram® sole with plenty of grip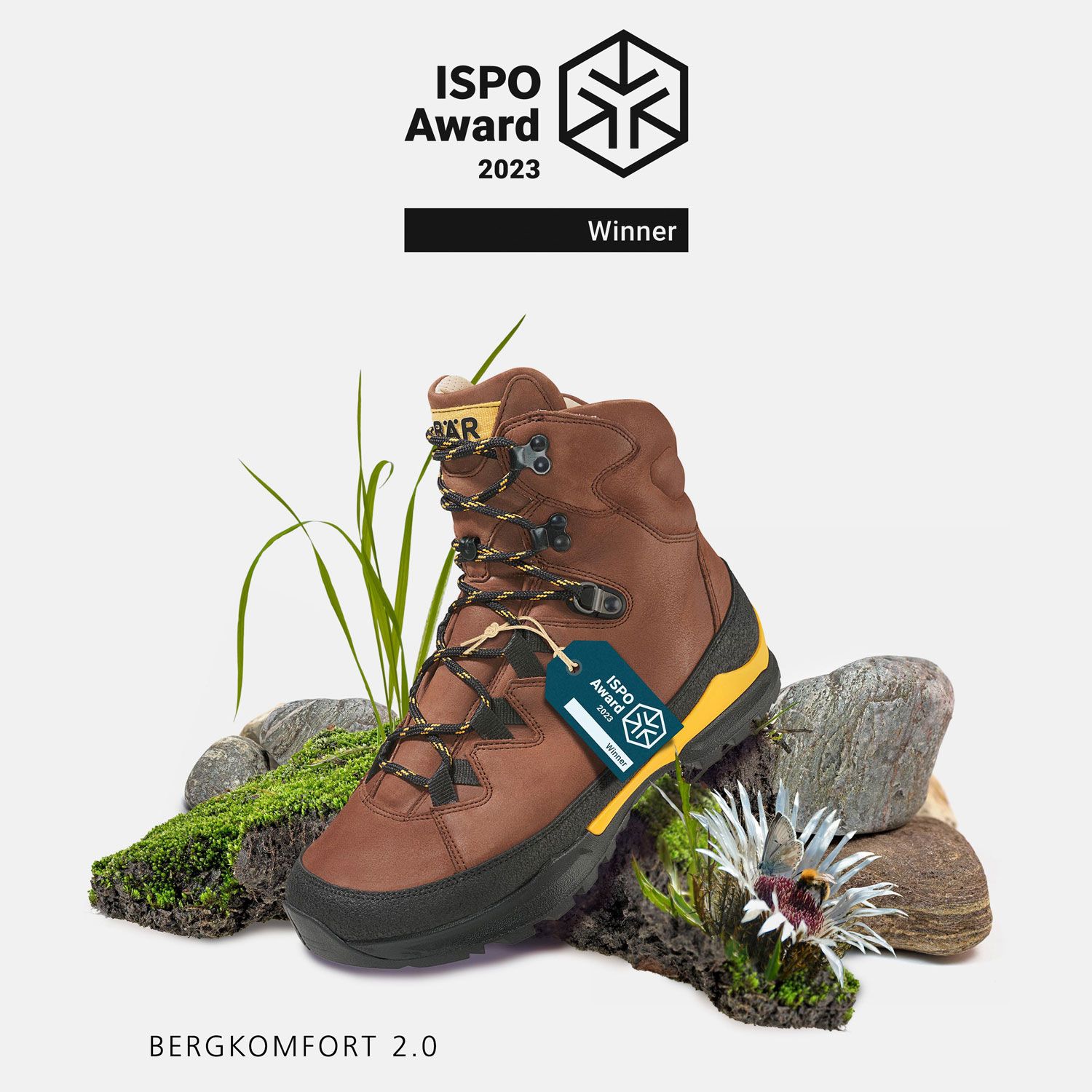 Together with Vibram, we have developed the revolutionary HikeTec sole, which has a unique tread and a state-of-the-art rubber compound. This impressive union allows us to continue to provide the comfort and premium quality you have come to expect from BÄR. The HikeTec sole offers numerous outstanding features- A brake profile for secure grip downhill, as well as a claw profile for grip uphill. The cushioning midsole absorbs shock and includes stabilizing elements.

Stabilizing yet flexible is the maxim of the FIRMOFLEX® technology developed by BÄR and for which a patent application has been filed. The four cross struts arranged in a fan-like pattern in the forefoot area create increased lateral stability due to the high degree of hardness, but without compromising flexibility in the direction of gait. This is further ensured thanks to the distance between the individual FIRMOFLEX® elements. Finally, the transverse elements prevent the forefoot area from pressing through and collapsing under continuous load.

The upper embraces the foot and can be decisive for buying or not buying, because nobody likes to buy an uncomfortable shoe. In our BERGKOMFORT collection, the high quality BÄR, which is at the same time super comfortable and allows 100% BÄR toe freedom, is made possible by the use of the environmentally consciously produced terracare® leather from Heinen and an enclosure of the foot with memory foam for optimal cushioning. The leather has a water and dirt repellent surface and is bacteria and odor neutral.
Terracare leather: produced in an environmentally friendly way
The Terracare® leather used in our BERGKOMFORT HIKING BOOTS is the ideal choice for demanding applications. It stands out for its impressive technical properties: It is water repellent, fire resistant, tear resistant, durable and breathable. This leather embodies environmentally friendly manufacturing, making efficient use of resources and boasting a remarkably high recycling rate. Terracare® leather stands for social responsibility as well as reliability "made in Germany". With over 130 years of leather expertise and valuable certifications, Terracare® leather is the trusted choice for sustainable and demanding applications.
More than just hiking boots for wide feet
Miri and her mountain dog Filo also known as "miiri.on.tour" put our BERGKOMFORT hiking boot 2.0 through a rough test in the Alps. Miri is particularly enthusiastic about the toefreedom, which finally no longer squeezes her little toe and provides good insulation for warm feet, especially in winter.
Andi, known as "blue_winter_mountain_lion" has been testing our BERGKOMFORT 2.0 for over two weeks now:
"it's the first mountain shoe that fits from the start, doesn't pinch and doesn't need any break-in time. It is super comfortable to wear. At the beginning I was a bit worried about the wide shape and how it would behave in rough terrain, but my concerns vanished into thin air last weekend when Miri and I mastered a steep slope, perfect grip.The sole is also great, we had quite difficult conditions and it was quite wet, but not a single slip."