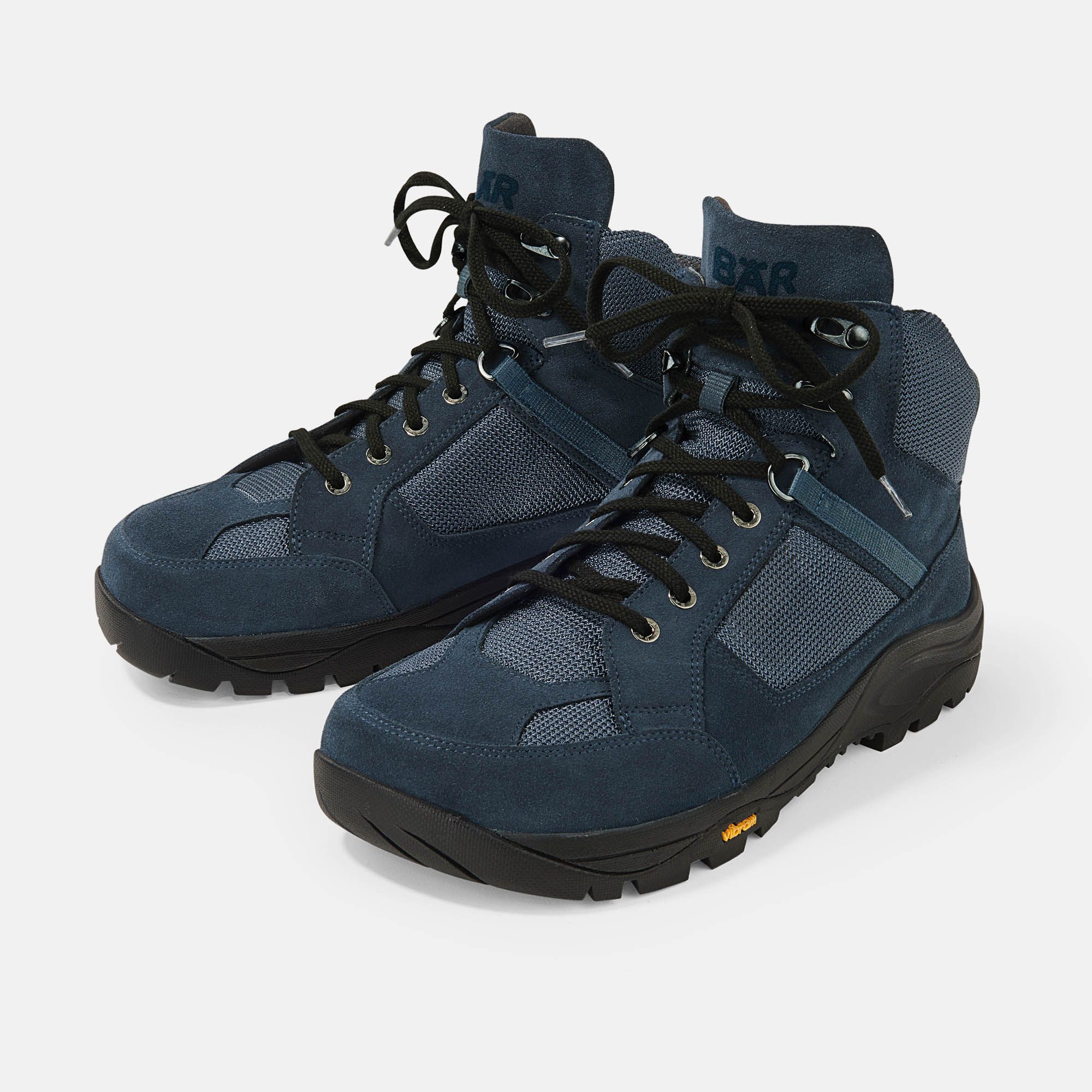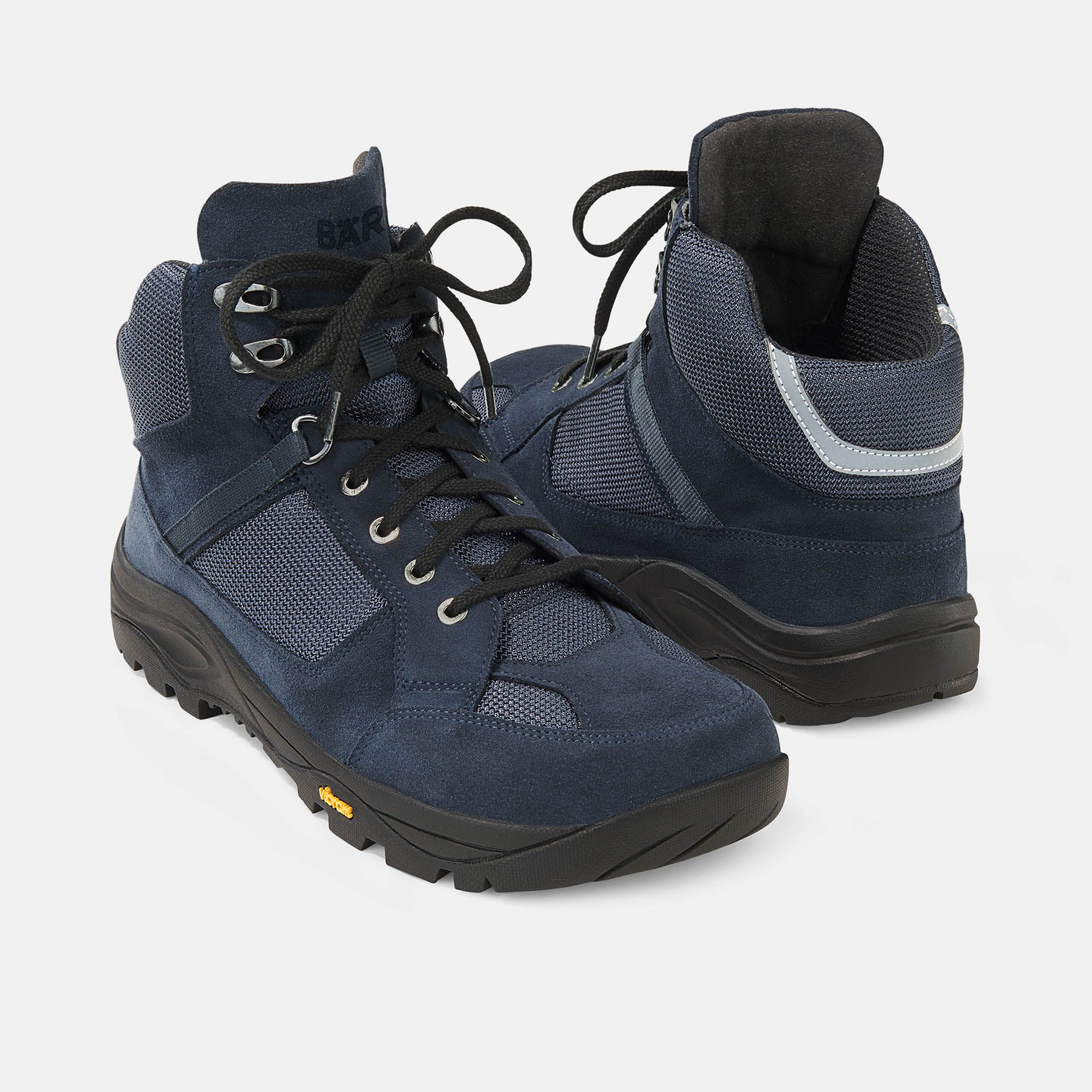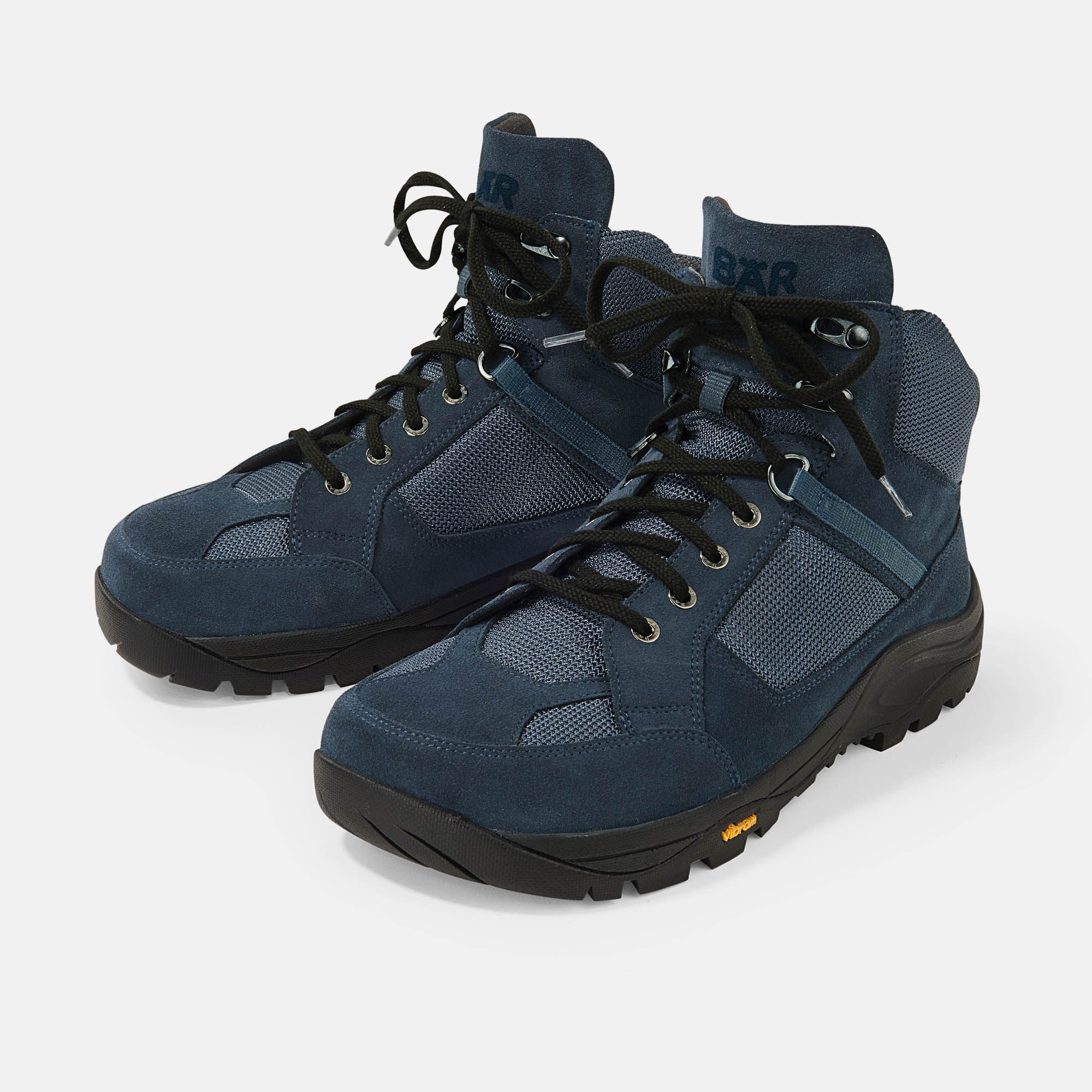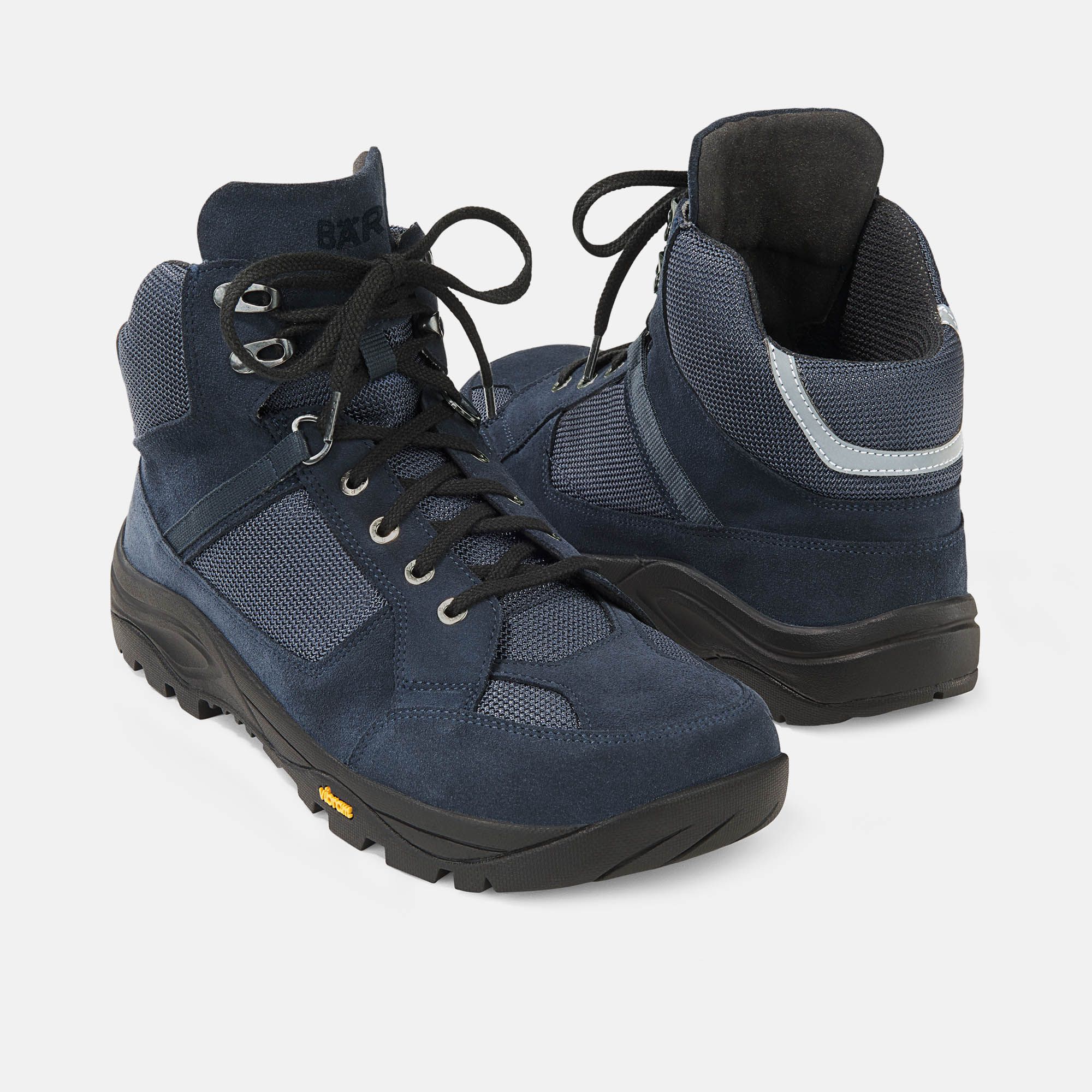 Innsbruck
Item number:
1059-405-04,5
Off to the mountains we go! With this particularly robust walking boot you are perfectly prepared, even for challenging hikes. Due to its durable, breath¬able and soft padded materials, you can rely on "Innsbruck".

Weight: 460 gram / Shaft height 9 cm in size 6,5
You can find detailed advice on buying your hiking boots and all the important facts here: Hiking shoe tips from BÄR
Details
Removable footbed
Removable, leather covered 6 mm active charcoal footbed for good foot climate and 3 mm Poron® - heel cushion
Upper material
Materialmix
Outer material
Cowhide suede leather water-repellent Functional textile
Weight ca. per shoe
460 gr
Soletype
flexible rubber sole
---
Nachdem ich den Innsbruck ausgiebig getestet habe, in den Zillertalern, auf der Watzmann Überschreitung, im Alpenvorland, Karwendel, kann ich folgendes sagen: Die Vibram Sohle ist wie erwartet sehr gut. Der etwas höhere Schaft reicht völlig um im Geröll und Felsen die Knöchel zu schützen. Ich kann definitiv mit diesem Schuh alles gehen. Ich würde mir diesen Schuh wasserfester wünschen (in diesem Sommer aber auch bei Neuschnee kein Problem), er bräuchte dringend einen Unterzug für besser Sitz und Schnellverschluss Haken zum besseren Schnüren. Und er ist extrem weit für einen normalen Fuß, dh ich rutsche darin bergab hin und her und bekomme wunde Stellen an den Zehenballen. Ich muss es also mit der Einlegesohle (10,- extra) probieren. Hätte der Wandertoes 2.0 eine haltbare Vibramsohle hätte ich den perfekten Allrounder
sehr umständliche Schnürung, bequemer Schuh für leichte Wanderungen auf befestigten Wegen, sichere, rutschfeste Sohle.
Fallen gross aus - normale Grösse reicht locker
Ich trage Grösse 38,5 und habe die Innsbruck in 39 bestellt. Obwohl ich Zehenfreiheit gewohnt bin, habe ich leider erst zu spät bemerkt, dass 38,5 locker gereicht hätte. Ich kann ihn nur mit dicken Socken und sehr eng geschnürt tragen. Da ich ihn als Schlechtwetterersatz (ausreichend Grip bei Matsch/Schnee) für meine Barfussschuhe brauche, ist es mit den dicken Socken nicht weiter tragisch. Evtl. lege ich noch eine zweite Einlegesohle rein, mal schauen. Dafür, dass der Schuh lediglich als wasserabweisend beschrieben wird, bleiben die Füsse sehr trocken (ich imprägniere ihn regelmässig). Insgesamt finde ich den Schuh sehr bequem und angenehm rutschfest.
Good but not waterproof. Not for trekking wet paths.
Wo man diesen Schuh trägt, gibt es keine Probleme mehr.👍. Reinhard Künzel
Very comfortable, I am well pleased
I am really pleased with these shoes. They can be used in all kinds of weather in all kinds of terrain. They are so very comfortable - not least because I got good advice from Bär customer service before ordering the shoes: I use size 40 in women's shoes, but for these "unisex" shoes it's size 39 for the same size. One small minus, though: the soles are not as slippery-free as you would expect from Vibram. Grips/spikes are adviced for walking in wet snow/sludge.
Ein Schuh der sehr leicht ist und schon beim Anziehen geht es gut. Der Schuh stützt gut das Gelenk. Ich habe die blauen Schuhe genommen. Es ist schön, dass es nicht zu eine einfache Farbe hat, sondern mal hell und dunkel das Muster gestaltet ist. Die Sohle sehr gut. Auch mit Einlagen sehr gut. Den Schuh kann ich nur empfehlen, auch gut für Frauen. Ich trage Bär Schuhe seit Jahren.
Ich habe lange gesucht, weil meine geliebten Altomonte nicht mehr im Sortiment sind. Endlich habe ich die passenden Stiefel gefunden. Allerdings musste ich mich erst an sie gewöhnen, sprich einlaufen. Die Sohle ist fest, das soll sie ja auch sein. Allerdings hätte ich einen Vorschlag für die Lasche/Zunge. Die Unterseite ist ebenfalls aus Wildleder, daher rutschen die Socken beim Reinschlupfen nach hinten, beim Rausschlüpfen werden die Socken ausgezogen. Ich fände es besser, wenn die Unterseite aus demselben Material wie die Fütterung des Schuhe wäre.
Bewertung wurde gelöscht Bewertung wurde gelöscht Bewertung wurde gelöscht
Zu dicke Sohle, klobig, aber viel Platz
Ich habe die Schuhe bestellt und nach mehrmaligem Tragen leider feststellen müssen, dass ich damit nicht klarkomme. Die Sohle ist wahnsinnig dick - auch bei anderen Wanderschuhen der Marke Bär - und beim Auftreten rollt man gar nicht richtig ab, ich hatte das Gefühl, die ganze Sohle platscht als eine "Platte" auf den Boden. Die Schuhe sehen ziemlich klobig aus am Fuß, allerdings muss ich dazu sagen, dass ich Größe 43 bestellen musste. Bei kleinen Füßen mag es besser aussehen. Ich verkaufe die Schuhe leider nun weiter, komme damit nicht gut klar.. Zehenfreiheit hat man aber definitiv und keine Schweißfüße!