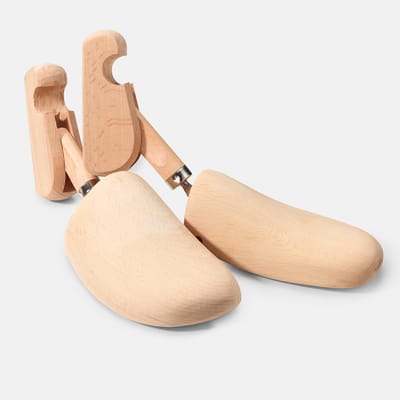 Schraubspanner Damen
Item number:
4890-219-10,0
Beechwood shoe tree. Elegant, natural and functional.


BÄR's specially designed adjustable shoe trees make sure that your shoes retain their shape for much longer. The beechwood is very good at absorbing moisture from the shoes.


The shoe trees can be adjusted to size and should ideally be inserted into your shoes as soon as you take them off. Regular use will help your shoes to retain their shape and reduce creasing.


If you treat your shoes well, they will last longer.


To the manual


For preventive use:
While the shoe is still warm, insert a BÄR shoe tree.

This is extremely important as it helps the shoe to retain its natural shape with 100% toefreedom.

The high-quality wood of the shoe tree will draw moisture out of the premium material as well as preventing odours and bacteria from forming.
Once the shoes have dried, the shoe tree is ideal for holding them firmly in shape while you clean them.
Allowing high-quality leather shoes to rest like this each day ensures that they will last much longer by keeping them looking good and performing well.

Details
Fit
Normal to wide foot shape