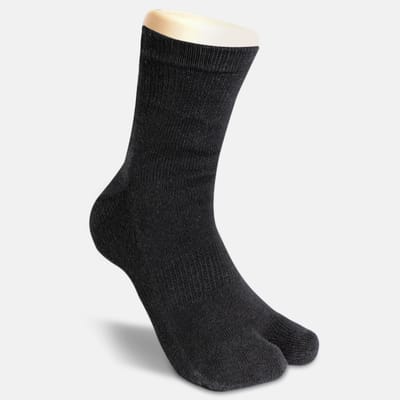 The big toe is the anchor and stabilizer for your foot and thus for your entire body. Being the strongest muscle in the foot, it needs sufficient space to perform this natural foot function. Note: even a conventional sock limits the big toe and forces it into an unnatural position. By freeing it from this unnatural position, it can better stabilize the body weight
and misalignments can be avoided. The Two-Toe Tabi sock is the ideal complement to all Joe Nimble Functional Footwear with the characteristic uncompromising toe freedom.


Size: 35 (35-38), 39 (39-42), 43 (43-46)


Comfortably soft with 90% cotton
promotes the natural function of the foot and the big toe to act as anchor and stabilizer
irritation-free with seamless toe design
Breathable and hygienic: absorbs moisture providing a balanced foot climate
Note on the size
The fit of these socks are slightly bigger than average. If your shoe size is at the border between the sizes, please choose the smaller size. For example people with shoe size 42.5 are advised to choose size 39 – 42.
Details
Fit
Normal to wide foot shape