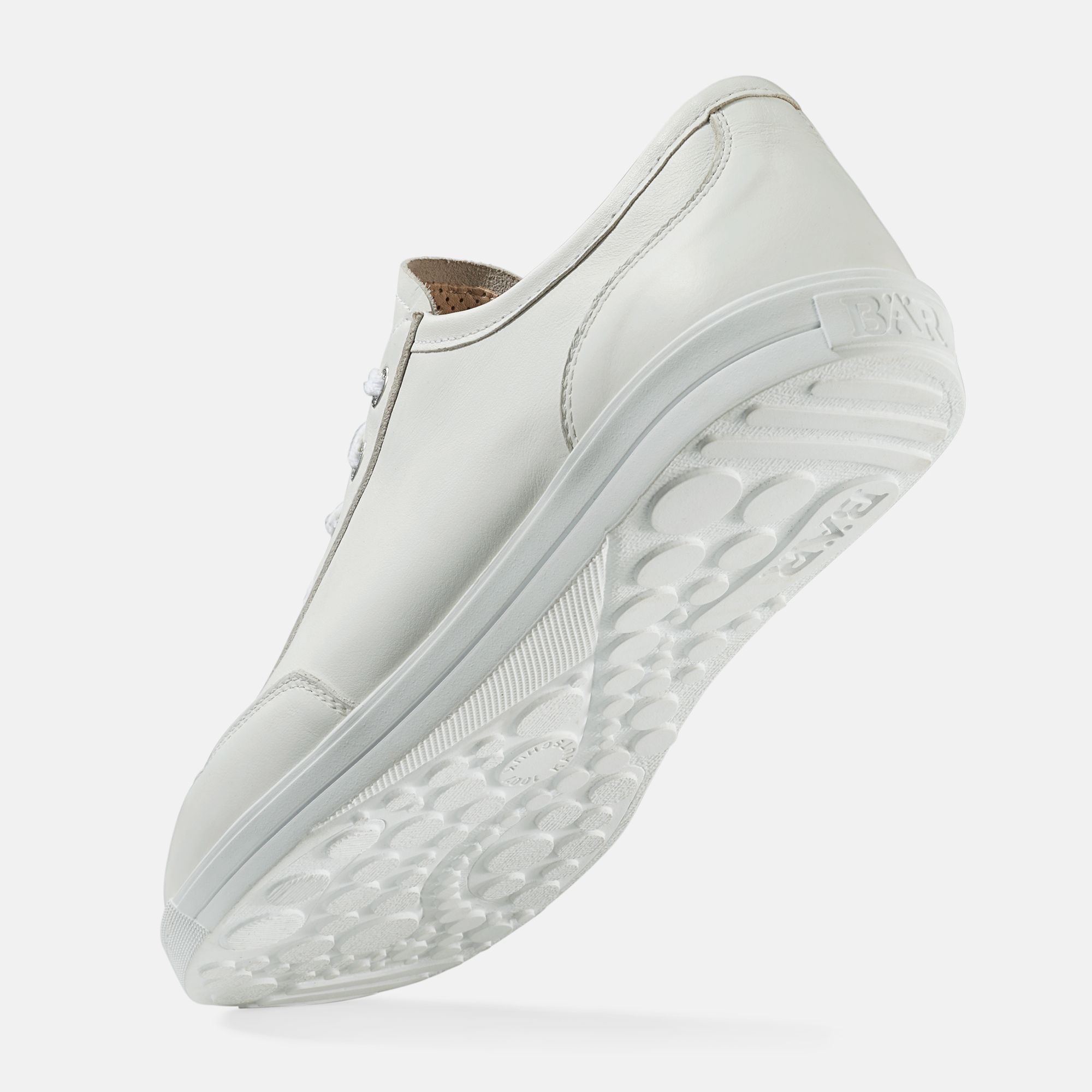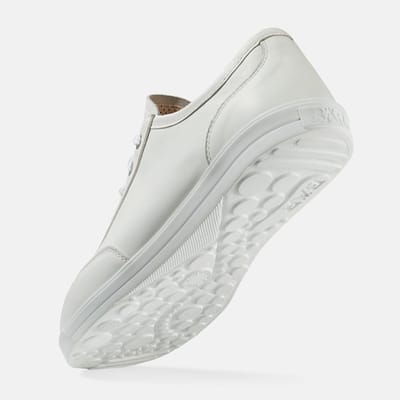 Emma
Item number:
2076-300-04,0
Wear "Emma" barefoot in summer, the soft calfskin lining and the removable 6 mm cork-latex footbed make it possible. Thanks to BÄR know-how with toe freedom, full step cushioning and rolling pleasure, it is of course a pleasure for your feet.
Details
Fit
Normal to wide foot shape
Lining
Calf leather lining tanned chrome-free/heel textile
Removable footbed
Removable supportive, leather-covered, 6 mm cork-latex footbed
Upper material
Smooth leather
Outer material
Calfskin nappa leather
Soletype
Cushioned rolling thanks to flexible Sneaker sole made of natural rubber
---
An der Material- und Verarbeitungs-Qualität gibt es sicher nichts zu bemängeln und auch die breite Zehenbox ist - gerade bei Hallux valgus - ideal. Trotzdem passt der Schuh für mich im hinteren Bereich nicht, denn der Rand der Fersenkappe ist für meine - ansonsten schmalen - Füße viel zu hart und scheuert regelmäßig. Nun mag ich Emma nicht mehr tragen :-(
Super bequem aber an der Ferse zu kurz
Ich liebe die Zehenfreiheit der Bärschuhe. Der Fuß fühlt sich darin so gut an, nur laufen kann ich in Emma leider nicht. Die Ferse rutscht (trotz korrekter Größe) beim Gehen immer raus, findet keinen Halt. Schade, da ich genau dieses Design gesucht habe. Der Männerschuh Erik passt super an der Ferse, sieht mir allerdings zu wuchtig aus.
Emma mit oranger Sohle leider nur bis Größe 8
Ich hätte den Schuh gerne behalten. Leider ist Größe 8 zu knapp. Größer gibt es ausgerechnet dieses Modell nicht. Wäre toll, wenn es auch in 8,5 und 9 angeboten wird.
Bequem wie immer, aber leider harte Fersenkappe
Wie beschrieben, möchte ich die Schuhe ohne Strümpfe tragen, aber leider reiben die harten Fersenkappen bei mir. Sehr schade,da ich sehr lange einen leichten geschlossenen Sommerschuh gesucht habe und mich dann doch für Bär entschieden hatte, auch wegen der Zehenfreiheit. Die ist wieder vorhanden.
Ich habe diesen Schuh jetzt bereits das zweite Mal gekauft. In einer anderen Farbe. Super bequem und schick. Auch wenn der Schuh nicht in der Filiale vorrätig ist, ist der Service hervorragend. Die Mitarbeiter in der Filiale Hamburg Poststraße sind außerordentlich kompetent und immer freundlich. Rufen auch zurück. Ich bleibe bei BÄR.
Ich habe mich getraut, diesen Schuh in rosa zu bestellen und es nicht bereut! Er wirkt zwar etwas breit, zumal ich Größe 43 trage, aber bei jedem Schritt hat man ein herrliches Gefühl.. als ob der Fuß sanft massiert wird...! Zu einer weißen Sommerhose z. B. sieht dieser Schuh besonders hübsch aus. Wenn die Hose unten nicht allzu eng ist, fällt der etwas breite Schuh überhaupt nicht auf! Außerdem stehe ich zu BÄR!! Das bietet mir kein anderer Schuh! Hier direkt an der Alster quälen sich leider immer noch zu viele Menschen in unbequemen Schuhen, nur um toll auszusehen...
Ich finde diesen Schuh so bequem, soll toll, dass ich ihn im vergangenen Jahr fadt ausschließlich getragen habe. Ich würde ihn mir gerne noch einnal kaufen, aber es gibt ihn leider nicht mehr in Größe 6,5.