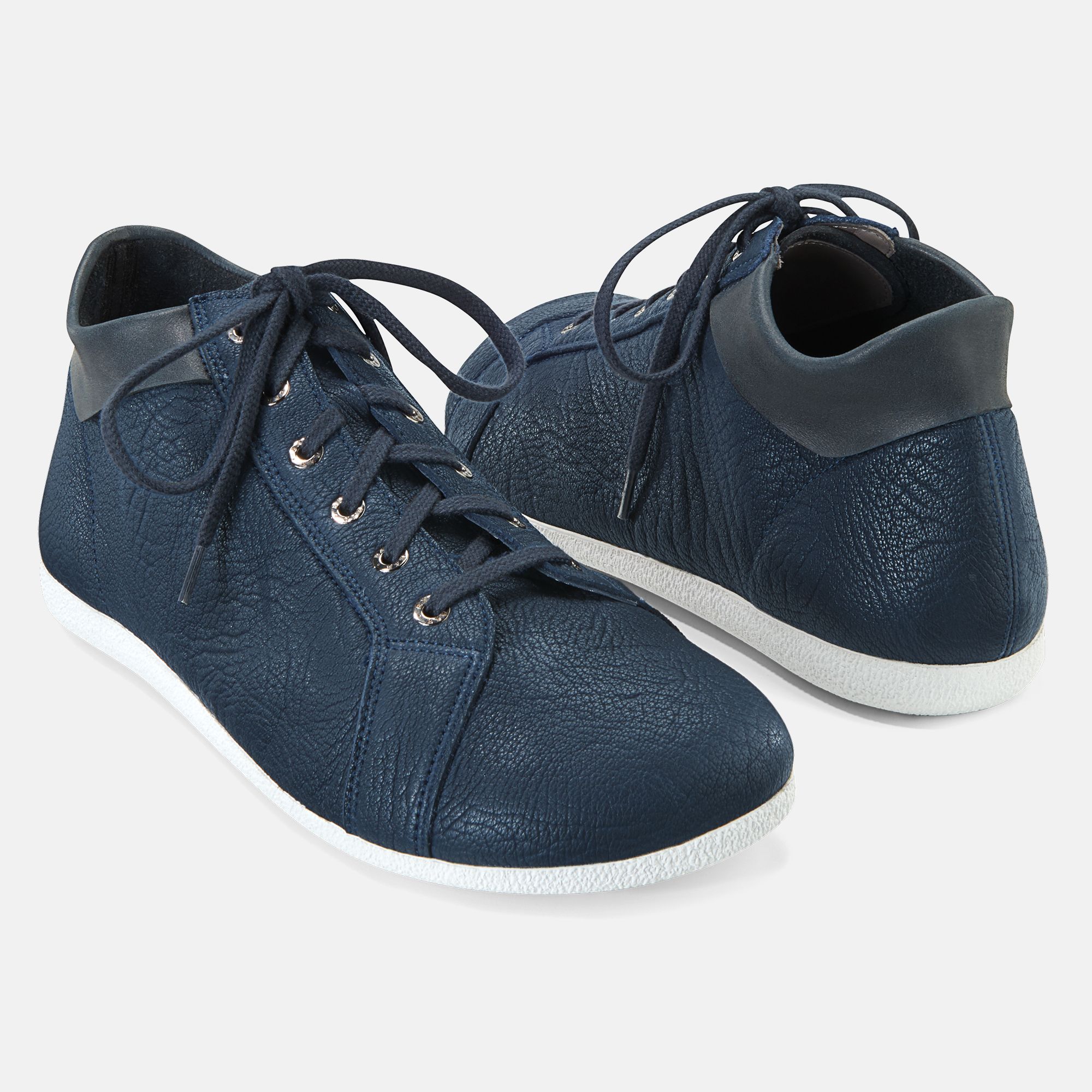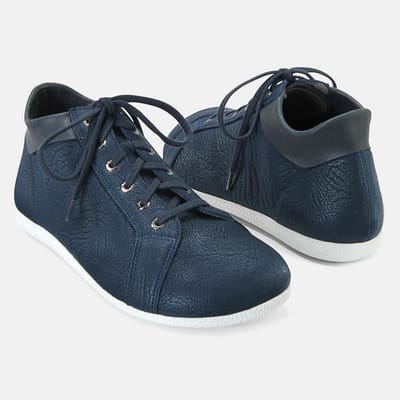 Magda
Item number:
2100-405-05,5
"Magda" caresses your feet and has everything a BÄR shoe needs. This lightweight lace-up combines unique leather with toefreedom. It fits like a glove but is also tough, making it a sure-fire summer favourite.


Lightweight, shape-retentive, casual lace-up for maximum comfort
Details
Fit
Normal to wide foot shape
Lining
Kalbleder-Futter teilgefüttert chromfrei gegerbt/Textil/Ferse Lederfutter
Removable footbed
Removable, leather-covered 3 mm Resilience foam footbed
Upper material
Smooth leather
Outer material
Mouflon leather
Soletype
Flexible rolling due to Softflex sole made of natural rubber
---
Leider nichts für die Ewigkeit
Auch dieses Schuhmodell trage ich (wie das Modell Nathalie) bereits die 3. Saison. Vom Tragekomfort gibts auch hier nichts zu beanstanden. Allerdings ist auch hier - wie beim Modell Nathalie - nach einiger Zeit das Phänomen aufgetreten, dass das Leder extrem verblasst. Die anfänglich olivgrünen Schuhe sind mittlerweile beige. Ich hatte mir die Schuhe damals passend zu einem olivgrünen Parka gekauft. Daher weiß ich ganz genau, wie die Schuhe zu Anfang aussahen. Als ich letztens mal jemanden aus dem Bekanntenkreis gefragt habe, welche Farbe meine Schuhe seiner Meinung nach hätten, bekam ich als Antwort: "beige". Ja, es stimmt. Von dem anfänglich schönen Grünton ist leider nichts mehr übrig. Auch haben sich bei diesem Schuhmodell mit der Zeit hässliche Flecken auf dem Leder gebildet, die leider selbst beim Putzen nicht mehr weggehen. Ich finde für einen so hochpreisigen Schuh stimmt hier einfach die Qualität nicht. Ich wollte nur noch wenige Schuhpaare besitzen, dafür aber von höchster Qualität, so dass ich erstmal ausgesorgt habe. Leider sind selbst die hochpreisigen BÄR-Schuhe nichts für die Ewigkeit. Auf Nachfrage bei BÄR bekam ich die Antwort, dass ich die Schuhe doch einfach mal auffrischen soll mit dem Woly Easy Care. Was ich natürlich dann bestellt habe. Leider hat auch das nichts gebracht. Die anfängliche Begeisterung der BÄR Schuhe hat bei mir nachgelassen und ich werde auch keine Schuhe mehr hier bestellen. Ich finde hier passt das Preis-/Leistungsverhältnis einfach nicht!
Der Magda- Schuh (senfgelb Velourleder )sitzt wie angegossen, super bequemes Fussbett.Ich bin sehr gerne in ihm gelaufen.Nach einigen Monaten fing das Leder an sich zu verfärben.Schmutzränder, grüne Flecken.Ich habe mit allen bekannten Mitteln versucht ihn zu säubern. Ich habe ihn sogar eingeschickt, nach Anraten einer Verkäuferin in einer Bär Filiale in Konstanz. Wurde wieder zurückgeschickt.Ich kann den Schuh nicht mehr anziehen. Ich habe ihn nur eine Saison getragen.Bei dem Preis....ein Jammer
Schön, aber vorne sehr flach
Wunderschöne Ankleboots aus butterweichem Leder. Flexible Sohle, schönes Material. Leider sind sie für meine hohen Füsse über dem Zehenansatz zu flach geraten, was zu einem sehr schmerzhaften "Eindrücken" der Sehnen führt. Ich habe lange mit mir gehadert, aber sie gehen zurück. Wäre die vordere Kuppe einen Tick höher, wären sie perfekt.
Perfekt für breite Füße - toller Schuh!
Ich suche seit Jahren passende Schuhe fuer meine sehr breiten Fuesse. Endlich bin ich fuendig geworden. Dieser Schuh ist einfach perfekt, sehr bequem, leicht und sieht toll aus.
Davon abgesehen, dass man in beiden Schuhen wie barfuß geht und sie sehr bequem sind, hat man einen enormen Vorteil. Als Jeansträger hat man fast ausgesorgt. Im Winter Nathalie und im Sommer Magda in Marine zu Blue Jeans, mehr braucht man nicht.
Ein superweicher und sehr angenehm zu tragender Schuh. Super, super, super, bin ganz begeistert. Ich sage immer wieder: Lieber 2-3 paar Schuhe weniger im Fach , dafür 1-2 paar Schuhe von der Firma Bär. Zahlt sich immer aus und tut den Füßen sehr gut. Toll, kann die firma Bär nur empfehlen.
Dieser Schuh ist traumhaft, nichts drückt und engt ein, bequemer geht's nicht, danke, weiter so