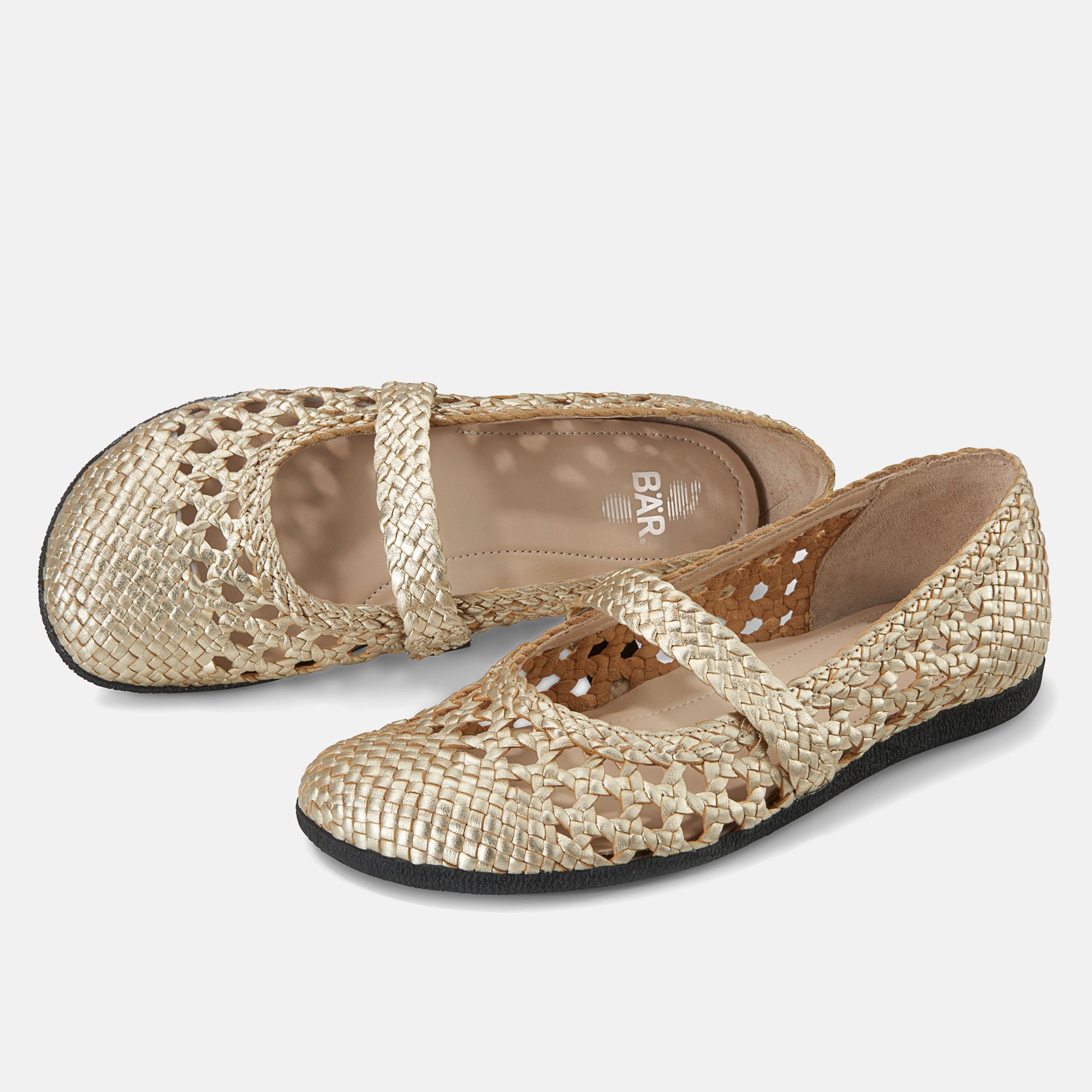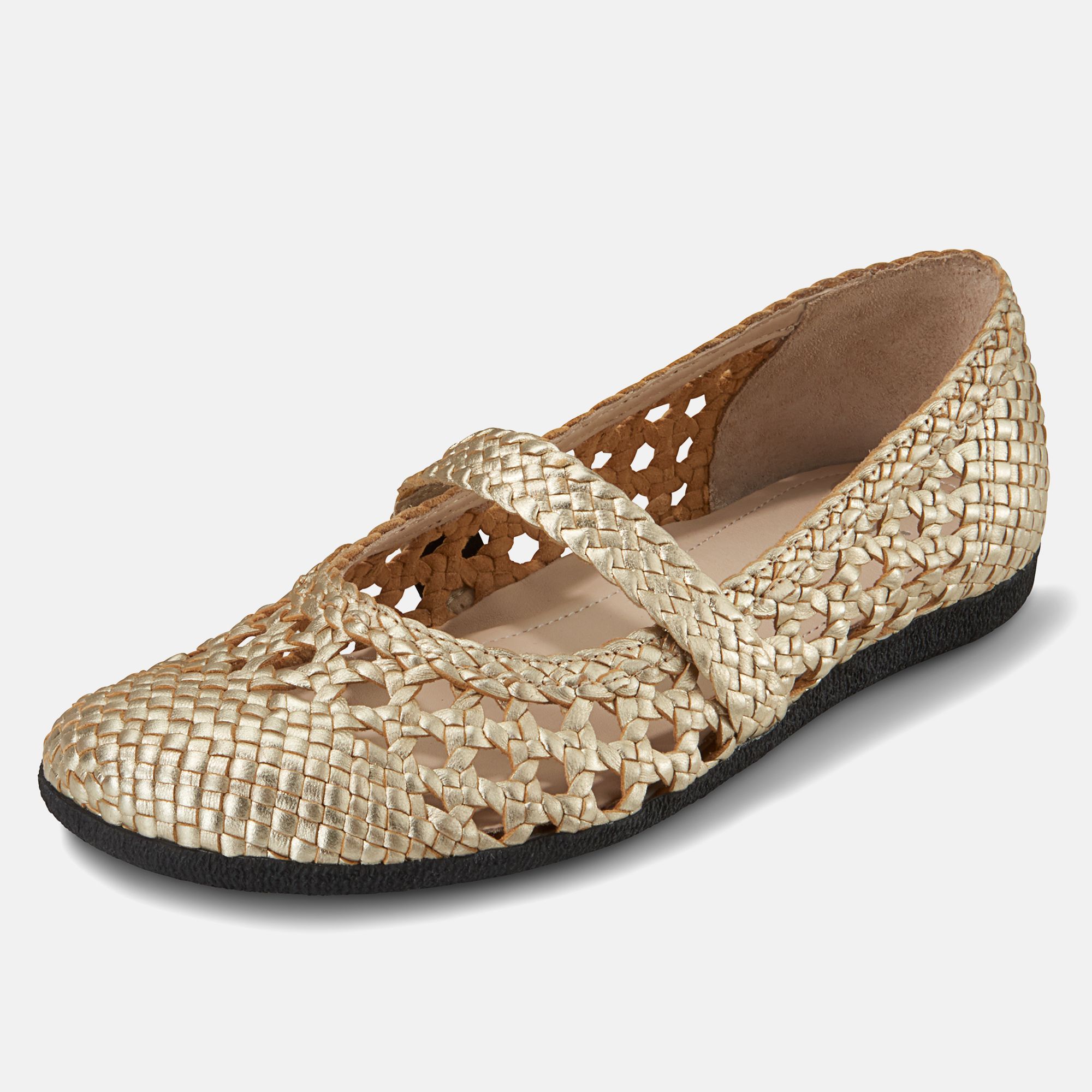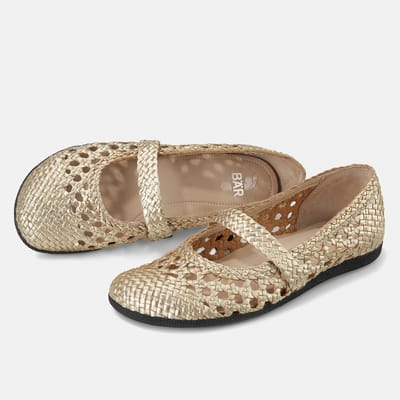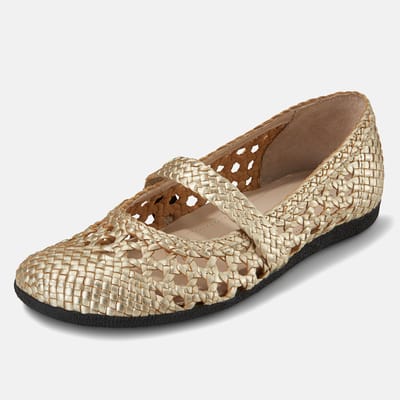 Monica
Item number:
2143-705-07,5
This airy, woven design is available in various cheerful colours and boasts a secure fit and an optimally cushioned sole. The exclusive goatskin is hand-finished using cherrywood for added highlights and a two-tone effect. This gives the leather a unique vividness and patina. Each shoe is unique. This style moulds to any foot, enveloping it while offering maximum airiness.


Ultra-light ballerina pump with secure elastic straps
*The coarse braiding is very elastic. We recommend buying one size smaller. If you fluctuate between two sizes, we recommend the smaller one, as the braided material adapts to the foot over time.
Details
Fit
Normal to wide foot shape
Lining
Calfskin/heel textile
Removable footbed
Removable, leather-covered 3 mm Resilience foam footbed
Upper material
Smooth leather
Outer material
Chevreaux leather
Soletype
Flexible rolling due to Softflex sole made of natural rubber
---
Monica in rosé Die Schuhe passten perfekt, als sie eintrafen, und sahen auch gut aus. Leider dehnte sich das Leder nach mehrmaligem Tragen so sehr, dass ich aus den Schuhen schlappte. Für Hallux-Füße sehr ungünstig, wenn man ständig den Schuh "festkrallen"muss. Ein Anruf bei Bär-Schuhe war sehr unfreundlich, ich hätte ja die Möglichkeit zur Anprobe gehabt und natürlich dehnen sich Schuhe... Eine Rücknahme wurde mir nicht in Aussicht gestellt. Da ich keine Lust auf lange Streitigkeiten hatte und dann komplett ohne Schuhe gewesen wäre, habe ich zu dem hohen Schuhpreis weitere 20 Euro beim Schuhmacher investiert und das Riemchen verstellbar umarbeiten lassen. Damit verliere ich die Schuhe nun beim Laufen nicht mehr, aber grundsätzlich befriedigend ist die Situation dadurch noch immer nicht. Auf den Kauf weiterer Bär-Schuhe werde ich verzichten.
Die Farbe rosé entspricht nicht dem Bild. Abgesehen davon habe ich in diesem Schuh leider gar keinen Halt, mein Fuß wackelt hin und her. Mit der Zeit wurde der Schuh immer größer. Schade!
Schön leicht und sommerlich !
Monica in weiß ist wunderschön und so richtig für den Sommer geeignet. Sitzt sehr gut an meinem Fuß, gut gepolstert und ich merke nicht jeden Stein. Zwei Paar Flechtschuhe besitze ich noch aus den Vorjahren, die ich sehr viel trage. Sie sind noch besser verarbeitet, das Geflecht ist feiner, die Innenverarbeitung noch schöner. Allerdings waren sie auch viel teurer. Mit Monica bin ich dennoch sehr zufrieden und empfehle ihn gern. Noch eine Frage zur Pflege der Kautschuksohlen: Bei "Jeanette" reibt sich die Sohle ab. Nach vielen Jahren. Was kann ich tun, daß dieses nicht wieder passiert?